China Finance Review International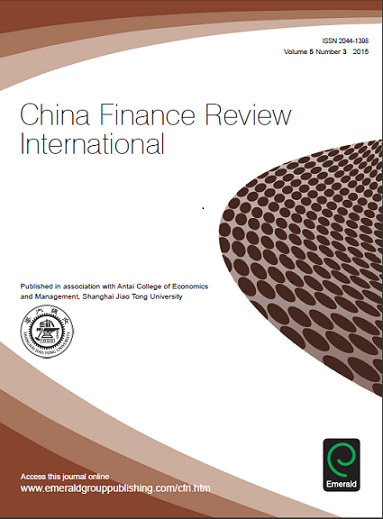 China Finance Review International is a peer-reviewed scholarly journal published by Shanghai Jiao tong University and Emerald Group Publishing Limited, seeking to publish highly original and high level theoretical papers on financial and economic issues emerging in economic development, and system transformation in China.
CFRI contributes to generating and sharing understanding of different financial environments and trends in China. This journal aims to keep readers abreast of the latest theoretical, empirical, or policy-related articles on China's financial economic issues written from every perspective, in all areas of finance, as well as promoting international communications and exchanges of financial studies.
CFRI currently has a 13% acceptance rate and is listed in key abstract and indexing services such as Scopus, ESCI, Cabell's Dictionary, ProQuest, EBSCO, Summon, RePEc, and Econlit. It has been accepted by the Australian Business Deans Council (ABDC) and is now listed in their 2013 journal rating list. In 2015, CFRI is ranked in The Association of Business Schools' (ABS) Academic Journal Guide 2015 and Australian Business Deans Council (ABDC) Quality Journal List. The journal providing a platform for the researchers, academicians, economists, professional and students to impart and share knowledge in the form of high quality empirical and theoretical research papers, case studies and book reviews.
All manuscripts must be prepared in English and are subject to a rigorous and fair peer-review process. Articles submitted to this journal must be original and not have been published elsewhere.
Editorial Objectives
The journal aids the application of empirical research to practical situations and theoretical findings to the reality of the world. The journal will serve two critical purposes. First, China's finance scholars have an international publication outlet to publish their high-quality articles to exchange with international scholars. Secondly, the world financial economists and scholars have a channel to publish their articles and share their views with China's policy makers, scholars and industry leaders. Also, the goal of this journal is to publish cutting edge research and promote the research work in these fast moving areas.
The journal welcomes the submission of high quality manuscripts with significant implications those are concerned with the theoretical or empirical aspects of the following broadly defined areas:
Scope/Coverage
The coverage of the journal includes, but is not limited to:
• Monetary theory and policy
• Monetary system and policy
• International trade and finance
• Enterprise theory
• Company governance theory
• Incentive and motivation and game theory
• Asset-pricing theory
• Corporate finance, mergers and acquisitions
• Behavior finance
• The microstructure of the finance market
• Banking reform
• Financial and fiscal study
• Fiscal system reform
• Public management study
• SOE reform study
• Fiscal and tax theory, etc.
Submission guidelines and further information
The quick and double blind review process, rich editorial board, zero tolerance for plagiarism and high respect for publication ethics, a strong commitment for scheduled publication are the key features of the Institute's journals.The Journal does not have page charges, color figure charges or submission fees.
Submissions to CFRI are made using Scholar One
Manuscripts: http://mc.manuscriptcentral.com/cfri
As a guide, articles should be between 8,000-15,000 words in length.
For more information, please visit the official website of China Finance Review International: http://www.emeraldgrouppublishing.com/cfri.htm
If you would like to discuss your paper prior to submission, or seek advice on the submission process please contact the CFRI, Editorial Office (Shanghai Jiao Tong University), at the following email address: cfr@sjtu.edu.cn
China Finance Review International, Editorial Office
Room A208, No. 1954 Huashan Road,
Shanghai Jiao Tong University, China 200030
Email: cfr@sjtu.edu.cn
Office Telephone: 86-21-52301267
Journal Website: http://www.emeraldinsight.com/loi/cfri
Online Submission:mc.manuscriptcentral.com/cfri