The 70-second promo "Great Engineering at SJTU" released in the summer college admission season in 2019and featuring sophisticated technology left lasting impression on every viewer. Shanghai Jiao Tong University (SJTU), also known as the MTI of the East, has not only attracted the best young talents from China's engineering field but has become a place international science and engineering talents aspire for. Egemen Ertugrul, a young talent from Turkey, is one of them.
The lively pace of a "science geek"at SJTU
As a country straddling Europe and Asia, Turkey not only blends the two cultures but is characterized by distinctively local customs. Grown up in such a country, Egemen Ertugrul came to SJTU with a curiosity about the Chinese culture and virtual reality (VR) technology, embarking on a journey of his favorite VR exploration at the School of Electronic Information and Electrical Engineering.
This was the second time that we talked with Egemen after he won an award at the 2nd China University Students VRAR Developer Competition in 2018. He said that he was working at studies and striving to live an enriched life at SJTU, and he had found much delight in academic research. He likened himself to a fast-spinning top that would never stop. When asked whether he would spare some time to have some fun at the most popular shops downtown, he said he seldom went to such places. "I like staying at the Minhang Campus and immersing myself in my study and research," said Egemen. (Giggles)
In this interview, we found that Egemen spoke and gestured 2 to 3 seconds faster than the way he did in the last interview. He also felt the same way. "Maybe this is the pace of SJTU's science geeks. Efficiency can help me tap into more potential," he said.
Scaling new heights in the VR world
In the summer of 2015, Egemen was recommended by the AIESEC to teach Chinese in Beijing for more experience of the Oriental cultures and a real China. AIESEC, short for Association Internationale des Etudiants en Sciences Economiques et Commerciales, is the world's largest youth-run not-for-profit organization. With the aim to provide young people with leadership development, it is a global platform that offers young people international business internships, cultural communication, practical leadership positions, and global learning opportunities.
In 2018, Egemen graduated from his alma mater in Turkey as the third highest-achieving undergraduate. The good memories of teaching Chinese in China a few years ago has made him more determined to stay in China. Following his stay in China's majestic capital city Beijing, he desided to continue his studies in Shanghai, and SJTU was the one that best aligned with his field of study.
Guided by his supervisor Professor Sheng Bin, Egemen participated in the 2nd China University Students VRAR Developer Competition and made it into the top eight with his work ChineseVR, which helped him win the Best VR Application Award. He was one of only two individual contestants and also the only international contestant. He said his prize-winning work drew much of its inspiration from his Chinese language learning experience.
His work is a user-friendly application intending for those whose native language is not Chinese. It blends VR technology with the Chinese culture and is close to the life of international students. The unique part of this application is that it makes it easier and more fun to learn Chinese, one of the most difficult languages on earth. Users can watch, listen, write in a 3D scenario and select the courses commensurate with their levels. In the interactive module of Chinese character recognition, users can write Chinese characters on a piece of cloth with a brush based on the specified order of strokes, and the characters can be intelligently recognized and displayed. Egemen used typical Chinese elements such as Chinese Buddhist images, porcelain, ink wash paintings, and the I Ching to build what he believed would be the ideal virtual scenarios. He is now also using this application to learn the Chinese language.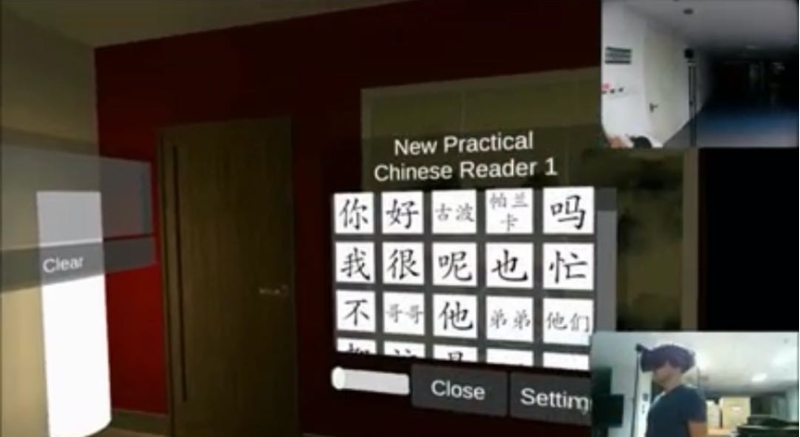 Soon after getting an award from the competition, Egemen took part in another competition, the AngelHack Global Hackathon Shanghai Makers, where his work "Dispatchr" won USD 1,000 and a 1/2-year IBM cloud credit package worth USD 500 per month. And he has recently been working on the research and development for the project QR Code Embedded 3D Model and preparing for a contribution to the high-end human-computer interaction academic conference CHI 2020. We look forward to his another outstanding performance.
Being busy is a new normal
In addition to his track record of multiple accolades obtained in his specialized field, Egemen has also been a dutiful and responsible team leader and a right-hand man for his supervisor. As a teaching assistant for 70 students, he would prepare and distribute course materials, assign project tasks, and collect assignments in their course system. During off-class hours, he would participate in the Small Talk activities held by the SJTU International Student Union, where he would introduce to the audience topics such as human-computer interaction and VR.
Egemen Ertugrul is giving a lecture on human-computer interaction during the Small Talk activities
This is how Egemen's supervisor Sheng Bin says about him: He is a modest, courteous, and gentle Turkish boy passionate about the Chinese culture and VR technology, who has come a long way at his own expense to study at SJTU to explore the mystery of the VR technology. Everyone would encounter numerous opportunities on the journey through their life, some of which can make you succeed, and some will not. As opportunities presenting themselves from time to time, whoever seizes them would be able to get the last laugh. Egemen is the one who can take advantage of every opportunity to improve himself. Being smart and motivated, he would listen and participate attentively in class. There is no limit to one's pursuit of science, and he is expected to tap into even greater potential. I hope he could continue to work hard with perseverance, make progress each and every day, and finally realize his dream.
Author: Zhao Dinghui
International Student Center of SJTU International Affairs Division