Profile: Soumia Cheddah, an Algerian doctoral candidate at SJTU School of Pharmacy and Chinese Government Scholarship winner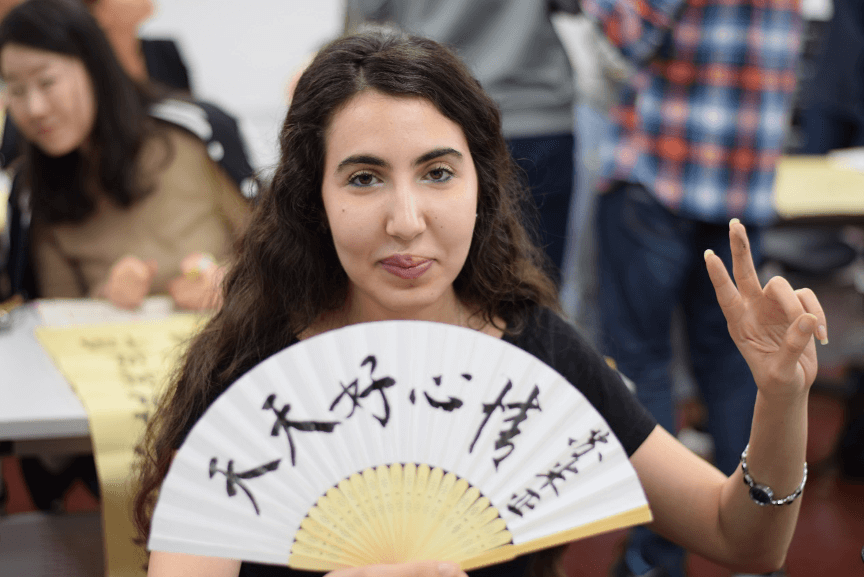 Martial arts, tai chi, cheongsam, chess and cards, calligraphy, and hotpot are some of the popular Chinese elements that Soumia, a girl from the old Algerian city Constantine, is quite familiar and pleased with. Having studied in China for more than 6 years, Soumia has a Chinese story to tell that is both informative and impressive.
Studying in China is a great fortune in life
Pharmacology and medicine are very popular academic disciplines in Algeria and are what many aspiring young Algerians strive for. Soumia chose the latter, as she is more fond of chemistry. Prior to heading for a doctoral program at SJTU, she studied at China Pharmaceutical University in Nanjing and obtained a master degree of pharmacology. Having known that the Algerian and Chinese governments began to jointly grant scholarships for students studying in China, Soumia, who had already started her career but had still remained passionate about study and research, determined to resign and went back to the campus. She said, "Studying in China, is a great fortune in life!"
Recalling recent years of study in China, Soumia said memories of days learning Chinese terminology are engraved on her mind. Having gained the certificate of HSK (level 5), she had no problem with communication, but the countless awkward-sounding terms drove her crazy. To overcome language barriers, she spent far more time and effort than her Chinese counterparts in memorizing the terminology. When asked whether she had thought about giving up and returning to her comfort zone, she said that she has never been a person who would give up easily, that she very much cherished the opportunity to study and research in China, and that she believed the unlimited potential of the human brain could be unleashed through constant training. Dream is like a sail, while perseverance is like a paddle. There is nothing mysterious about success. If you insist on finding the key to success, that would be two rules: first, stay the course; second, come back to the first rule whenever you want to give up. She has never thought about giving up, and all she thought about was following through and overcoming difficulties. And she would dedicate her extracurricular hours to communicating with her Chinese friends, watching Chinese TV dramas, etc., to alleviate the boredom and pressure and to sharpen her sensitivity to Chinese characters. After a period of time, she could memorize Chinese terminology more efficiently.
"Experience China on a Beijing Tour" for a better understanding of the "second hometown"
Having studied and lived in China for more than 6 years, Soumia has been deeply impressed with the enthusiasm and kindness of the Chinese people. During this spring festival, Soumia's supervisor Wang Yan invited her to his home to celebrate the spring festival with his family and accompanied her to the ancient town of Qibao in Shanghai to experience the most traditional new year of China. Not only did SJTU teachers and students gave her a lot of care and support, but she the local people on the trip were amicable too. She said that her friendship with China and the Chinese people had also been felt by her little brother, who came to China for study as well.
In June 2019, following the recommendation of SJTU School of Pharmacy as well as SJTU review and screening, Soumia participated in the 5-day "Experience China on a Beijing Tour" on behalf of SJTU. In addition to viewing the magnificent natural mountains and rivers as well as the majestic cultural landscape in China, she also listened to a wonderful speech delivered by a professor from Tsinghua University and visited China Energy Engineering Group and Sinopec Group, where she acquired much knowledge of China's power generation and distribution and petroleum refining. These two companies have done strategic planning for environmental protection and have taken measures for and contributed to global warming mitigation. Various aircraft models in different eras presented at the Beijing Air and Space Museum also left a deep impression on Soumia. This activity has enabled her to understand the new trends in China's politics, economy, and technological development as well as to experience its rapid development and transformation in science and energy. "I think it was a very meaningful activity, and I made friends with other international students from across nearly 60 countries specializing in different fields at different universities. We talked about not only academic issues but our study experience in China. In this little 'UN', we developed a better international vision. We are not only studying in China but are witnessing China's development. And we're gonna share with all of you our experience and the hospitality that we have received here," she said.
Join hands with SJTU in pursuit of the dream
Soumia often said if she hadn't studied in China, her second hometown, she wouldn't be who she is. Every international student who has come a long way to study in a foreign country would face various challenges and may find it hard to adapt to the new environment, and Soumia was no exception. But it was these challenges that have spurred her to grow. In a multicultural environment, she has learned empathy and a more inclusive attitude to understand and embrace various cultures and things. She also developed a few hobbies, such as running and shooting. She would work out at a shooting club near SJTU after class to fully relieve pressure and negative emotions. Although she majors in Western medicine, she is also very much interested in traditional Chinese medicine. "I tried acupuncture, and it was very effective," she said.
"SJTU has offered us international students a lot of learning and outreach activities. Every semester, we would have a diverse range of academic and practical activities. The campus has a very strong international atmosphere, and we feel that our voices can be heard by both faculty members and local students. And we have confidence in our study and research capacity," said Soumia. Soumia's supervisor Wang Yan said of her, "Soumia is both smart and studious. She has showed an exceedingly high level of research capabilities since she joined our research team. She loves reading literature and thinking, and can raise a lot of questions based on the topic of her research and come up with a lot of solutions. She is down-to-earth and would not conduct research just for publishing papers. She has a strong interest in research and excellent hands-on skills. She likes diving deep into research, dares to try anything new, and is active in thinking and diligent. Students like her are rarely seen. And she really has a lot of potential for research. The teachers in our team often praised her by saying we were so fortunate to have her in the team and encourage everybody to learn from her."
Everyone can make a legend. As of now, Soumia has published/co-published 7 academic papers (3 of them have impact factors exceeding 5) and 3 conference papers. Aspiring to be a professor, Soumia would not only perform even better in her research but become a narrator of her China stories.
By Zhao Dinghui
International Student Center of SJTU International Affairs Division