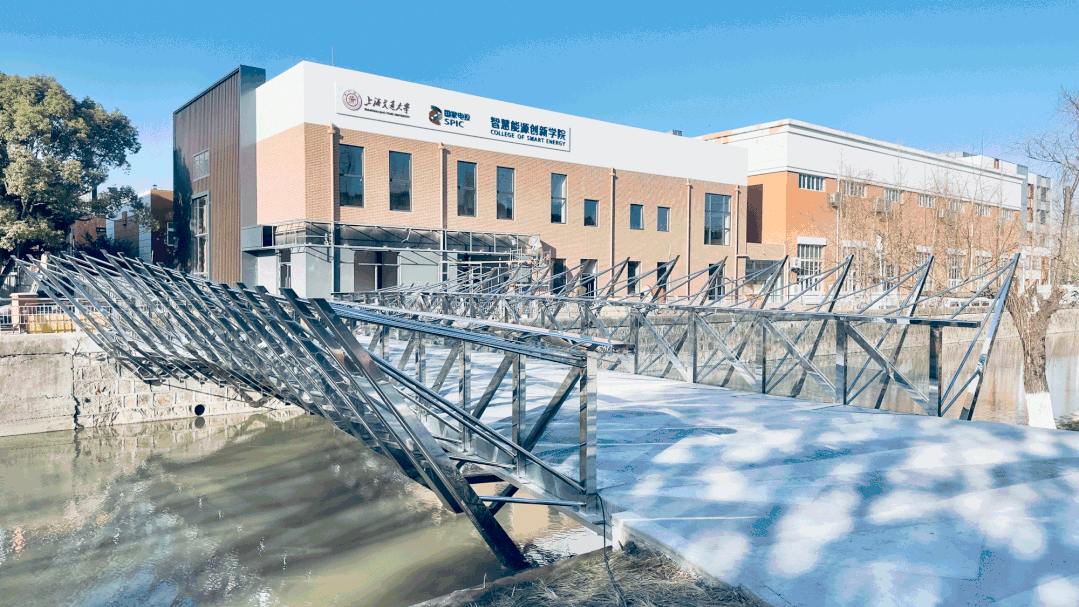 The "Jiaohui Bridge" designed by Associate Professor Liu Shixing with his graduate student Cui Zijia from the School of Design was officially completed in February. The site is located at the end of the main road adjacent to the School of Smart Energy Innovation. The project is imbued with significance as an academic-industry bridge merging the talent and wisdom of Jiao Tong's academic research and that of the national SPIC corporation, symbolic of creating a better future.
The overall span of the bridge body is 20 meters, with a width at its extremity of six meters. In order to realize a dynamic feeling of the bridge body, internal arches are used to control the boundaries on either side of the bridge deck, resulting in a wider view of the bridge's end.. The minimum width of the middle section is four meters to meet the needs of future vehicle traffic. Constraints proved by a maximum slope for vehicles, slight height differences on both sides of the bridge deck, and height requirements to allow for through-traffic along the No. 3 River result in slight height differences along the bridge deck.
The inner edge line of the bridge body is formed by railing, and the outer side by three sets of curvilinear space defining the flowing volume of the bridge body. The highest point and the farthest point are fixed within 2.2m from the side of the bridge, and the lowest point is lower than the bottom of the bridge's beam. The positions and inclination differentials of the outer border on both sides of the bridge deck are different, increasing the richness offered from different perspectives. Triangular hollows are arranged on the overhangs on the edge of the bridge deck, making it more light and graceful.
The bridge body rods are made of mirror stainless steel, the reflectivity of which makes the bridge body easier to blend into the surrounding environment, and also softens the volume boundaries of the components, increasing luminescence and spatial flexibility. The railing glass is made of tempered laminated Low E glass, with film installed facing inward. A certain level of permeability is maintained at the same time as a perception of hierarchy is enriched with the inner side reflecting the deck glass and railing braces, and the outer side reflecting the rods of the bridge body.
Landscape lighting features multiple light effect programs, including "color-changing breaths," "two-way water flows," and gradual transitions. These echo the luminous effect of rod shapes, enriching the sense of layering created by the unit rods and the overall shape of the bridge body.
Editor on Duty: Diwei Chen
Responsible Editor: Qianqian Jiang, Yuhe Fu