Event Review
The calligraphy experience activity hosted by the International Student Service Center of Shanghai Jiao Tong University was successfully held on March 11, 2023. More than 20 students have participated in this activity. They are from Uzbekistan, Iran, Russia, Canada, France, Malaysia, Turkey, Pakistan, South Korea, Ethiopia and other countries.
Activities
The activity began with members from the Painting, Calligraphy, and Seal Cutting Association explaining the characteristics of different styles of calligraphy to the students and also allowing students to appreciate the different styles of calligraphy works presented. Then she introduced the students to the four treasures of the study, namely, pen, ink, paper, and inkstone, which are unique tools of Chinese calligraphy and painting. After the introduction, the students began to learn how to use the correct posture to hold the brush. When the students learned to write, they began to practice calligraphy on paper and quickly mastered the essentials, gradually able to write Chinese characters coherently. Under the patient guidance of the association members, the students copied the calligraphy against the samples. Students also wrote beautiful "Fu" on their red squares of paper.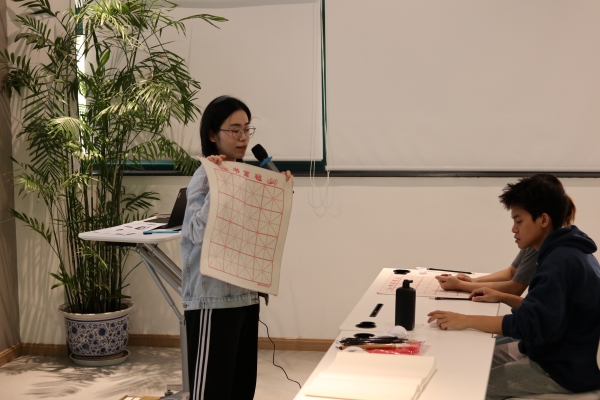 After the activity, the students said that they loved Chinese calligraphy and feel the rich and profound Chinese culture through the course in the afternoon. Through this activity, the students can feel the charm of Chinese art and gain new friends from all over the world. By hosting activities related to Chinese culture, we can spread excellent Chinese culture and jointly promote Chinese culture to the world.
Source: SJTU ISSC
Editor on Duty: Cheng Yan
Responsible Editor: Qianqian Jiang, Yuhe Fu