Currently celebrating its 5th year program anniversary, ICCI Art Valley- Visiting Artists opened this year's edition of its annual event, the " Imag(in)e Fantasy" art exhibition, on Saturday Nov 19th at the Chun Art Museum. More than hundreds university students, art lovers, curators, and industry experts attended the opening ceremony.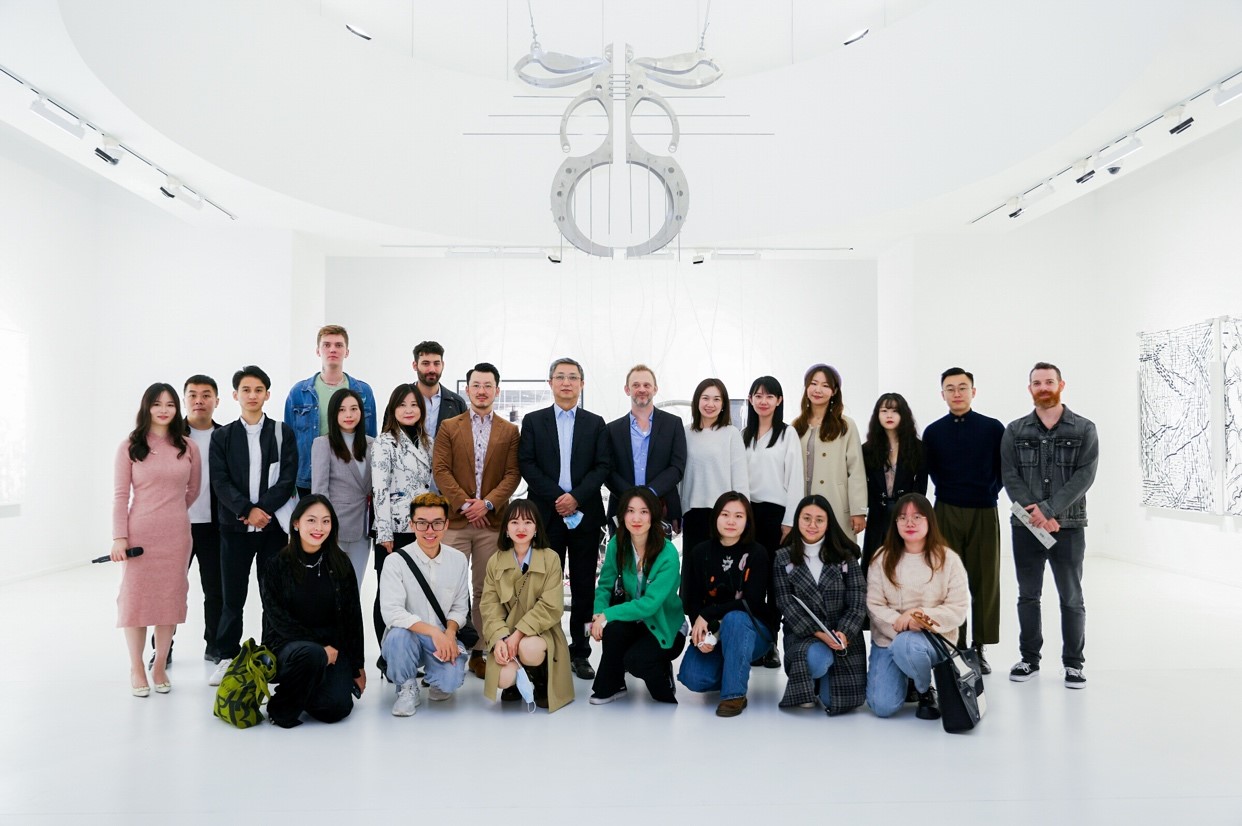 With hundreds of applications from all over the world each year, the event has attracted artists across the globe, including Russia, Israel, China, Switzerland, Hungary, Italy, Malaysia and many other countries to join the residency practice and academic events at ICCI. The program has expanded network of global artists, curators, industry experts through many large-scale exhibitions, public art events, and Shanghai International Art Festival, covering an audience of over 200,000 people, to foster a diverse cultural and artistic environment in Shanghai.
2022 ICCI Art Valley was as creative as ever, with an emphasis on the rapid development of artificial intelligence, machine learning and new media technology, as well as the rapid extension of media theory, it featured the collision of art and technology which was one of the vital topics of art curation.
Below, a look at part of the works at the 2022 " Imag(in)e Fantasy" art exhibition:
"The SUBMARINE" created by Ziv Ze'ev Cohen follows the operating logic of the submarine, and aims at the structure of the submarine to explore how to rely on technical equipment to better explore the unknown world like the ocean.
The art space created by Marcel Zaes Sagesser, assistant professor at the School of Innovative and Creative Design at Southern University of Science and Technology, allows visitors to "dialogue" with the works, conveys the connection between sound technology and social and cultural systems, and brings more inspiration to the contemporary art creation with new practical theory and sound technology.
Young artist YANG Yiming tried to establish a new communication channel between machinery and organic life, inspiring visitors to think about how symbiotic relationships affect each other, and exploring the integration and development path of human and the world.
Pioneering visual artist ZHAI Xuanhong has studied the combination of light and paint for many years and combined with his unique modeling language to form elegant and vibrant pictures.
Pavel Feat, a cross-border Russian graffiti artist, good at using spray paint to render tense emotions, presented the beauty of the fusion of Eastern and Western cultures in a unique, diverse and highly recognizable art form.
Weimin ZHANG, Curator of the ICCI ART VALLEY and Dean of the ICCI, said "The theme of this year's exhibition is "Imag(in)e Fantasy" with the hope that artists and art educators from different countries and different art fields will discuss the real scene, innovative scene, and practical scene of current art education to promote technological innovation through art practice, improve the experience of art education, and provide diverse practical experience for cultivating practical art management talents with an international perspective."
The day's events continued with academic panel discussions. SUN Jie,
Tenured Professor at Tongji University and National Distinguished Expert, moderated a discussion with well-known experts, scholars, industry experts, and art practitioners on the topic of Cultivation of Art Talents and Future Art Education. "Creation is the driving force in art, which is also one of the important goals of cultivating talents for future art practice. The cultivation of art talents has developed and become mature through countless practices. I believe that in the era of rapid global technological advancement, technology and art will collide with more creative sparks," said SUN Jie.
Since ICCI launched the program in 2018, the Art Valley has received praise and recognition from art platforms and organizations at home and abroad. With the strong support of the Shanghai Municipal Education Commission's cultural and educational integration project and the high-level cultural and artistic talent studio, the Art Valley has been able to integrate the past five years of artistic practice experience and brand cohesion to build an art resource docking platform for the global art education field. Radiating to Shanghai's landmark art museums, art projects and artists, it has built a bridge and platform for artists all over the world to communicate and create.
source for ICCI
translation by ZHU Xiaoqiu