June 6,2023 - July 15,2023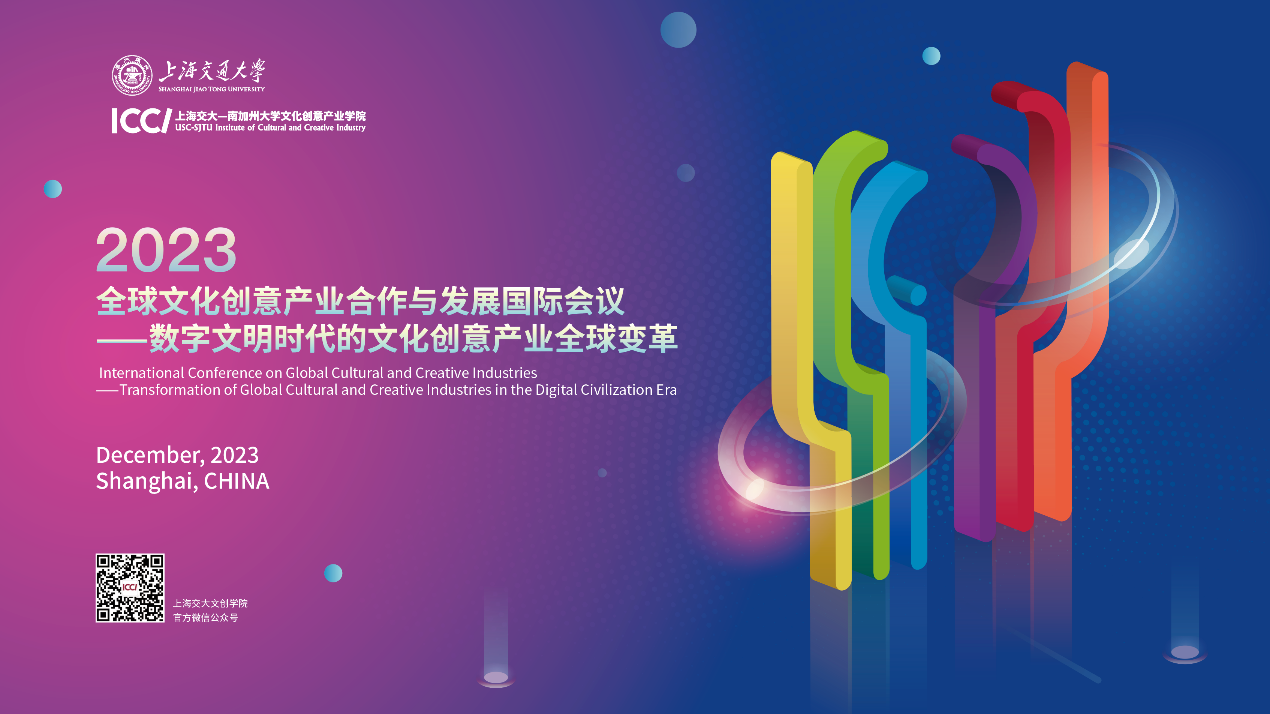 December 2023, Shanghai, China
Hosted by USC-SJTU Institute of Cultural and Creative Industry of
Shanghai Jiao Tong University
Introduction
Since 2018, USC-SJTU Institute of Cultural and Creative Industry of Shanghai Jiao Tong University (hereinafter referred to as ICCI) has successfully held five sessions of the International Conference on Global Cultural and Creative Industries. In December, 2023, ICCI will host the 6th International Conference on Global Cultural and Creative Industries.
Human society is entering an era of digital civilization with the triadic integration of "human-AI-object", and digital technology is deeply integrated into all fields and processes in the coordinate system of social civilization with new concepts, new business modes and new models. The online information flow and the offline human flow intersect, the virtual world and the real world are constantly embedded with each other, and massive information and data are flowing around the world. Cultural industry has become the new driving force of global economic development, and cultural creativity has become the new driving force of economic development strategies of cities around the world. Global innovation networks have been leading a new way of distributing global resource elements and influencing the transformation of cultural industries together with global production networks. In the context of the digital civilization era, the development of digital human, metaverse, AIGC and other generative technologies further stimulates the cultural and creative fields to rely on emerging technologies for intelligence and empowerment, shaping the digital civilization era with a new cultural industry system. The conference will be based on the mutual reinforcement of human civilization development and technological innovation, and will focus on the three themes of digital intelligent cultural creation, digital art, and intelligent cultural tourism to discuss the new layout, new consumption, new energy, and new communication for the development of cultural and creative industries in the new era, with a view to exploring a new idea and new direction for the development and academic research of global cultural and creative industries in compliance with the progress of the times.
In line with the development trend of the times, grasping the frontier field of cultural and creative industries and responding to the common expectation of the society, the 6th International Conference on Global Cultural and Creative Industries will take "Transformation of Global Cultural and Creative Industries in the Digital Civilization Era" as its theme, build a platform for full dialogue and communication based on cross-discipline, and sincerely invite scholars and industrialists from different disciplines such as cultural industry, management, communication, design, art, ethnology, computer science,sociology, psychology, and intangible cultural heritage studies to actively participate in the conference, forming a collision of academic thoughts, new ideas and new technologies from the perspective of interdisciplinary disciplines, exploring new problems, new challenges and new opportunities for the development of cultural and creative industries, and discussing new trends in the development of global cultural and creative industries, academia and research.
Call for Papers
The 2023 International Conference on Global Cultural and Creative Industries seeks proposals for academic papers or discussion groups exploring the following topics, including but not limited to
Metaverse and the Symbiosis of the Imaginary-Real
Focus on the booming development of new technologies such as digital human, virtual reality, augmented reality, and digital twin under the wave of metaverse. Technologies such as digital human, generative AI, and virtual-reality interaction have successfully entered the public eye and are playing an important role in many fields such as film and television, games, media, cultural tourism, and finance. Research topics include but are not limited to neurocognition, augmented reality, brain-computer interface, touch technology, virtual scene reconstruction, digital human and other research areas. It is intended to promote relevant discussions in theoretical construction, technical mechanisms, data processing, model construction, research design and industrial applications.
Intelligent Art and Innovation in Museology
Focusing on innovative research in the field of art and culture and museums to promote the cultural development of creative cities and urban cultural identity, with special attention to digital art, game-like exhibitions, dramatic role-playing exhibitions, immersive virtual exhibitions, museums of the future and digital cultural creation, the aim is to bring together the discipline's cutting-edge scientific research results and explore the diverse possibilities of digital art and exhibitions. Research topics include, but are not limited to, diversified technical presentation of exhibitions, curatorial logic, interaction methods, etc. Other relevant papers on art and cultural museums and exhibitions are also welcome to explore together.
Digital-creative Intangible Cultural Heritage and Urban Rural Development
Intangible cultural heritage, as an important support for the national cultural industry, constitutes a cultural flow element between the creation of rural business cards and the construction of urban image, building a bridge for the integrated development of urban and rural areas and promoting the coordinated development of urban and rural economy, culture, and ecology. Efforts will be made to promote urban-rural integration and regional coordinated development, drive effective improvement in quality and reasonable growth in quantity of the economy, and promote cultural revitalization in urban and rural areas to drive economic development. Research topics include but are not limited to the digitalized protection and communication of intangible cultural heritage in China, Inheritors of intangible cultural heritage and digital literacy, digital intangible cultural heritage and consumption of Chinese fashion, digital-creative intangible cultural heritage and rural-urban construction, the economy of intangible cultural heritage and rural-urban development, the value of intangible cultural heritage and international communication, with the aim of exploring excellent traditional culture with category commonalities and new forms of digital dissemination of intangible cultural heritage in China.
Digital Creativity and User Behavior
The evolution of digital technology in the cultural and creative industry has expanded the types and dimensions of user behavior, reconstructed the multilateral relationship between new content production and consumption, changed the value chain model of cultural and creative products, highlighted the multi-directional development momentum, and embodied the "industrial civilization" that deeply integrates "digital". "The forum will feature a number of speakers from the fields of psychology, social science and social science. This forum invites researchers from psychology, sociology, economics, communication and other disciplines to gain a deeper understanding of the behavior patterns of users in the cultural and creative industries. The research topics invited include but are not limited to digital media, AIGC, cultural and entertainment industries, digital communities, content production and consumption, and user value co-creation.
Emerging Technologies and the "New Infrastructures" of the Film Industry
The fundamental and supportive role of film technology in the development of the film industry has been widely discussed and recognized, and this forum focuses on the impact of emerging technologies on the film industry. 3D technology, digital special effects, and computer-generated imagery have become the "new infrastructures" of the film industry, which cross the boundary between reality and imagination, expand the medium of expression, innovated the experience effect, and bring new possibilities for the audiovisual entertainment industry. In this context, the cross-industry integration of IP, intellectual property protection measures, film narratives under media convergence, and film-receiver relationships have all shifted to new forms. We look forward to submissions on emerging technologies and cultural innovations in the film industry.
Global South and Local Connections
Under the prospect of a flourishing digital civilization, we aim to analyze the digital civilization life practiced and imagined in the global South outside the developed Western countries, and to explore the trans-local ideological resources for the construction of a community of human destiny, with the goal of a just and pluralistic global pattern of de-dependence and decolonization. Research topics include, but are not limited to, digital cultural practices in rural and minority regions, multi-species and ecological civilization imagination, digital reinvention of local rituals, and the digital divide and its governance. The aim is to gain insights into the locality, complexity and plurality of digital civilization through interdisciplinary exchanges in anthropology, communication, sociology and history.
Digital Platform and Creative Economy
Digital platforms are the new driving force for the development of the future creative economy. Digital platforms have powerful connectivity, a wide range of connections, algorithms with high efficiency and products and services of many categories, generating a stronger network effect. Research on the history, organization, structure, economy, management and culture of digital platforms needs to be promoted from multiple theoretical and methodological perspectives. We welcome innovative interpretations of various digital platforms with an open vision, and research topics include but are not limited to Internet and social media, mobile podcasts, short videos, video games, platform applications, etc.
Smart Cities and Urban Public Culture
As we enter the stage of digital civilization, the city remains the key scene of human life. An important characteristic of urban culture is its public nature, i.e., the ability of urban spaces to accommodate group interaction, facilitate public cultural participation, and shape public subjectivity. From the perspective of city governors, digital technology is an important cornerstone for strengthening urban public culture. How to upgrade smart cities through digital technology? How to encourage citizens to actively participate in public culture? How to make cities more livable in the era of digital civilization? This forum hopes to promote the construction of a warmer digital civilization city culture through the discussion of the above questions.
Culture and Tourism Integration and The New Technological Modes
With the development of socio changes, the integration of culture and tourism has gradually become the driving force and necessary condition for China's economic transformation. Among them, digital technology can effectively innovate the cultural tourism product system and deeply improve the cultural tourism consumption experience. Traditional cultural tourism practices are crossing the online and offline boundaries, integrating upstream and downstream feedback chains and creating new consumption scenarios due to digital technology, driving cultural resources to empower the tourism industry and promoting tourism carriers to enhance cultural competitiveness. This forum aims to discuss the cutting-edge digital cultural tourism industry and digital cultural tourism product supply, and explore the paths and initiatives to promote the high-quality development of cultural tourism integration.
Cultural and Creative Design and Creativity
Exploring the important roles played by innovation and creativity in the cultural and creative industry, focusing on contributing to relevant theories, methods, and applications related to the use, impact, mechanism, enhancement methods, technical support, and psychological and social impact of innovation and creativity. Widely paying attention to the application, impact, and relationship between design and the cultural and creative industry. Research topics include but are not limited to the development of cultural and creative products, traditional handicrafts, creative design processes, Artificial Intelligence assisted design, development of design methods and auxiliary tools, design management, and excellent design practices in the industry.
Generative AI and Cultural and Creative Industries
Generative AI has become a wave sweeping the world, not only shaking up forms of work with a schematic framework, but also having a profound impact on cultural and creative activities such as art and design, digital tourism, and complex aesthetics, which rely on human creativity. How should we answer the questions of value, art and the times brought by generative technology to the development of cultural creativity? Focusing on the above question, this forum welcomes researchers and industrial practitioners from different disciplines to discuss the possibilities of cultural and creative industries in the era of generative AI.
Understanding the Future of UK-China Research and Innovation Collaboration in the Creative Industries
This division presents the research outcomes of the "UK-China Collaboration in the Creative Industries programme." The programme is funded by the UKRI Fund for International Collaboration, and is led by Arts and Humanities Research Council (AHRC) in co-operation with Innovate UK and the Engineering and Physical Sciences Research Council (EPSRC). The aim of the programme is to explore and analyse how research and innovation collaboration between the UK and China in the creative industries currently works, how it works best, and how it could work in future.
Submission Instructions
Interested participants are invited to submit manuscripts in English or Chinese. The organizers will sort the received manuscripts according to the topics.
Submission System
Register on the International Conference website, https://conference.icci.sjtu.edu.cn, and follow the relevant instructions for submission.
Submission Deadline
1. By July 15, 2023: Submit basic participant information, title, and extended abstracts (500 words or more) through the official website;
2. By August 1, 2023: The organizing committee will issue paper acceptance notice;
3. By November 1, 2023: Full paper submission (8000-12000 words) by participants who want to be considered as best paper candidates.
Submission Format
1. Provide an abstract in Chinese /English (500 words or more); the full text should be controlled at about 8000-12000 words, with a title of your choice, including abstract, keywords and references in English and Chinese.
2. Writing language: Both Chinese and English are allowed.
3. Paper specification: Please follow the APA specification.
4. Thesis in Word electronic file, the page unified according to A4 paper layout, please keep your own copy, and submit both Word electronic file and PDF electronic file.
5. Please fill in the title according to "International Conference Submission + Author's Name + Work Unit"; each author is limited to submit no more than 2 papers as the first author.
6. At the end of the paper, please indicate the author's name, work unit, title and position, and correspondence (contact address, postal code, cell phone, email address) to facilitate timely communication and delivery of the proceedings.
7. The paper should be original and not published or presented in any domestic or foreign public journal or conference; it should be confidential and free of plagiarism, and the author is responsible for the paper.
8. Store the original pictures used in the thesis in a separate folder in the recommended format of JPG or PNG and submit them together with the final version of the thesis.
Contact Email
icci-conf@sjtu.edu.cn
Website
https://conference.icci.sjtu.edu.cn/
*The conference will be an offline event. Further details for time and forum will be announced before the event according to our arrangements. If you have questions, please feel free to contact us through the official email (icci-conf@sjtu.edu.cn).