USC-SJTU Institute of Cultural and Creative Industry (ICCI) and the Future Museum Studio will host an international panel discussion on the subject of Future Museums on May 26th (Thursday). A group of renowned experts in exhibition, curation, museums, and design will discuss how we can imagine the museums of the future. What particular vectors, problems, solutions, and inspirations can we find today that point the way of future trends?
Information of the Panel Discussion
Time
Thursday, May 26th
7:00 PM - 9:30 PM, Shanghai
3:00 PM - 5:30 PM, Dubai
1:00 PM - 3:30 PM, Barcelona
6:00 AM - 8:30 AM, Chicago
How to Join in
Tecent meeting Room No. 519 565 036*
Password 475012
*Please edit your name and title to join in the meeting room,Please refer to actual attending situation.
Tencent Meeting Livestream
https://meeting.tencent.com/live/1877939005145956242
Schedule
Moderators
Geoffrey Alan Rhodes
Tenured Professor, Shanghai Jiao Tong University
Director, Future Museum Media Innovation Studio
Geoffrey Alan Rhodes is a tenured Professor at Shanghai Jiao Tong University's Institute of Cultural and Creative Industry. For almost two decades he's been creating art and design projects using augmented and virtual reality. Rhodes helped to establish the Future Cinema Lab at York University in Toronto, was an Assistant Professor in the School of Film and Animation at Rochester Institute of Technology, and an Associate Professor and Chair in the Department of Visual Communication Design at the School of the Art Institute of Chicago. His feature films, media installations, and augmented reality publications have been prestigiously screened, exhibited, and published internationally. His Chicago 00 Project, a series of new media publications in collaboration with the Chicago History Museum, have won awards and major national funding. At ICCI, Rhodes is the Director of the Future Museum Media Innovation Studio, a research initiative which seeks to create fresh new experiences of history, museums, and galleries using new media technologies.
Mona Kim
Director of Mona Kim Projects, Paris
Spring 2022 ICCI Visiting Artist, Shanghai
Mona Kim graduated cum laude at Carnegie Mellon University. For the past 30 years, she has won multiple international awards such as SEGD, D&AD, and Chicago Athenaeum's Good Design Award for advancing the practice of experiential exhibition design. Her Paris-based design studio, Mona Kim Projects, has led the creative direction of projects at major museums, international events, and global brands, including the Canadian Museum for Human Rights, Uniqlo, Samsung, Dior, the Rio*20 UN Conference, and many others. She acted as a primary creative consultant to develop the Museu do Manha (Museum of Tomorrow) immersive experiential media design which won Leading Culture Destinations Awards, and was the Creative Director and Co-curator of the "Water for "Life" exhibition at World Expo Zaragoza 2008 with her co-founding partners of Program Collective. She has taught and lectured at Parsons Paris of The New School, NYU, Pompeu Fabra University, and the Instituto Europeo di Design in Barcelona.
Mona is currently directing an industry-defining immersive exhibition, a collaboration between Warner Brothers and SPYSCAPE museum in New York City which will open to the public in June 2022.
https://www.monakimprojects.com/
Panelists
The Exhibition Space as an Emergency Toolkit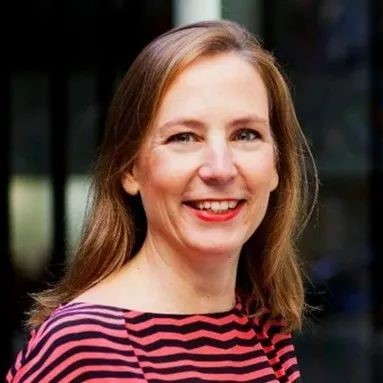 Olga Subirós
Director, Olga Subirós Studio, Barcelona
Olga Subirós is an architect and curator of exhibition projects that provide an integrative approach to twenty-first century culture and the far-reaching transformations of the digital era and systemic crisis. Subirós' latest project was AIR presented at Venice Biennale 2021 with an investigation on air pollution. Before that, Subirós curated Big Bang Data, an exhibition on the datafication of the world shown in venues including the Singapore ArtScience Museum and the MIT Museum. Highlights of some of the exhibition design projects include: Data Square at the EPFL-ArtLab in Lausanne; Ferran Adrià's creative process held at Somerset House in London and Boston Science Museum; Are you ready for television? at the MACBA Contemporary Art Museum in Barcelona, and of over a dozen exhibition projects at the Contemporary Culture Center of Barcelona.
Subirós is a current lecturer at Master of Design and Production of Spaces at Polytechnic University of Catalonia (UPC), Data and Design Master at Elisava, Barcelona School of Design, and a PhD candidate in Architecture and Design at RMIT.
https://olgasubiros.com/
Museums for the Future
Lāth Carlson
Executive Director, Museum of the Future, Dubai
A beacon of hope in a world facing significant challenges is how founding Executive Director, Lāth Carlson, describes the Museum of the Future. He sees it as a critical new approach in museums, that aspires to empower people to make a better future. The Museum of the Future opened on 2.22.22 as one of the world's most anticipated new museums and has received international acclaim, as well as being sold out every day since opening.
Throughout his career, Lāth has been at the forefront of technology and museum practice. At the University of New Mexico's Maxwell Museum of Anthropology, he created exhibitions while completing his degree in Cultural Anthropology. From there, Lāth's interest in interactive design and engineering led him to becoming a designer and project manager at the Please Touch Children's Museum in Philadelphia as well as the Franklin Institute Science Museum. From 2012 to 2015, Lāth held the position of Vice President of Exhibits and Content Development, at The Tech Museum of Innovation in Silicon Valley. In 2015, The Tech was awarded the highest honor an American museum can achieve: a National Medal for Museum and Library Service. Before his directorship at the Museum of the Future, he was a Founding Executive Director of Living Computers: Museum + Labs in Seattle, Washington, a project initiated by Microsoft Co-Founder Paul G. Allen.
Lāth has served on the board of the National Association for Museum Exhibition and is a Noyce Leadership Institute Fellow. He also lectured in graduate programs at the University of Washington and the University of the Arts, where he occupied a senior lecturer post.
https://museumofthefuture.ae/
Who Futures, Museums?
Todd Palmer
Director, Diversity in Design Collaborative
Todd Palmer is a strategist, leader and curator of purpose-driven design, learning and equity platforms. As the founding Director, Diversity in Design Collaborative (DID) he steers 48 design-focused organizations (initiated by MillerKnoll) who aligned to dismantle sectoral barriers facing Black talent.
Palmer orchestrated the 2017 and 2019 Chicago Architecture Biennial editions as its Executive Director, defining the emergent global platform's linking of spatial experimentation and civic urgencies. As Curator and Associate Director, Todd facilitated the rehabilitation of the National Public Housing Museum's grassroots community site, piloting design programs for "the public good."
Todd earned a BA, summa cum laude, in History & Theory of Architecture from Princeton and a MArch from Columbia's GSAPP. Palmer has realized public space interventions in Spain (with Program Collective) and Chicago, exhibited at the Studio Museum in Harlem, published critical essays in The Avery Review and Territories & Expeditions (IIT's MCHAP volume 2) and taught Design in RISD's MArch program.
https://diversityindesign.com/
Schedule
Keynotes 19:15-20:15
Panel Discussion 20:15-20:55
Q&A 20:55-21:25