Brief Introduction
The year 1992 witnessed the inauguration of and official approval for the State Key Laboratory of Ocean Engineering. After the beginning of its external laboratory services in 1993, the Lab has evolved into a scientific research platform well-known at home and abroad in the field of naval architecture and ocean engineering. The Laboratory is presently a comprehensive research center mainly composed of a deepwater offshore basin, an ocean engineering basin, a ship model towing tank, a cavitation tunnel, a ship maneuvering laboratory, a structural mechanics laboratory and an underwater engineering tank.
The work of the State Key Laboratory of Ocean Engineering is managed by the director and appraised by the academic committee which consists of famous experts in ocean engineering. The director of the Laboratory is Professor Yang Jianmin and the chairman of the academic committee is Professor Wu Youshen, member of Chinese Academy of Engineering.
The Laboratory has over sixty professional investigators performing research in the principal areas of offshore engineering. Since its establishment, the Laboratory has been active in conducting extensive basic scientific exploration and large scale technical engineering research, which has enabled the Laboratory to develop its distinctive research profile and elevate it to reach an international standard.
In 2008, a deepwater offshore basin was found in the Laboratory. The new basin is regarded one of the best of research facilities worldwide in terms of comprehensive capability, cultivating the frontiers of ocean engineering and materializing technical innovation in the field of deepwater offshore technology.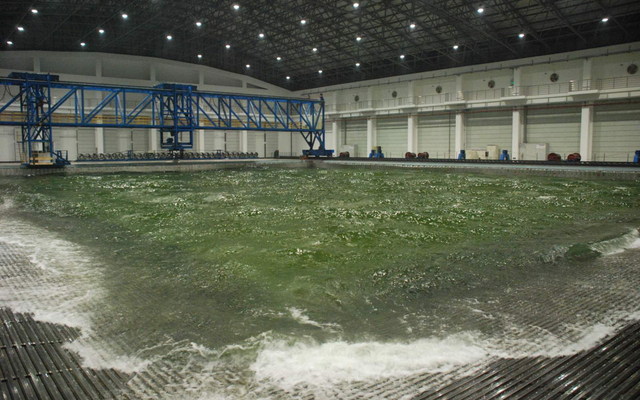 ---
Members
Director: Professor Yang Jianmin
Director of Academic Committee: Professor Wu Youshen
Research team

The laboratory's research team, with great influence in the international academic arena, has eighteen members (the most in China among its rivals) working at six major international academic organizations.

---

Research Fields

Significance mechanical problems in offshore engineering
Design theory and methods of naval marine engineering structures
Deepwater technology and engineering
Ocean biology resource
Ocean renewable energy
Marine science

---

Research Achievements

Research on the key technology and performance of Floating Production Storage and Offloading (FPSO)

Research on Hydrodynamic performance of deepwater platform

Research on key technologies of underwater devices

---

Cooperation

Internationally, the Laboratory exerted its strength to bid for and successfully accomplished over a score of engineering projects in open international competition; this in return brought a substantial international prestige to the Laboratory.