Brief Introduction
Shanghai Key Lab of Advanced Manufacturing Environment (AME), which is led by Shanghai Municipal Science & Technology Commission, is a research and development center sponsored and supported by both Shanghai Jiao Tong University and Shanghai Telecom Co., Ltd. It is also a research center to promote IT-based industrialization.
The lab is focused on the most recent development in advanced manufacturing, information technology, modern management technology, cross field researches of application, key technology research, product development and technology transfer.
As the first municipal key lab established with the cooperation of the university and enterprises in Shanghai, based on the original principle of "complementary predominance, resource integration, win-win cooperation and social service", the lab has been made great efforts to become a first-class center for industrial and academic exchanges, an opening gathering place for talented persons and a technical cooperation platform for the combination of IT industries and new comprehensive information services of China Telecom.
---
Members
The Council

The Council is composed of the leaders of SJTU & Shanghai Telecom, and supervisors of governmental authority concerned. Professor Yan Junqi is the President of the Council.

Director

Ma Dengzhe, Dr. of Engineering in Germany, Professor of School of Mechanical Engineering at SJTU

Director of Academic Committee

Tan Jianrong, Academician of Academy of Engineering, Professor at Zhejiang University

Core Management Members

Xi Juntong, vice-Director, Professor at SJTU

Fu Zhiren, vice-Director, Shanghai Telecom

Fan Feiya, assistant of Director, vice-Professor at SJTU

Chen Delai, assistant of Director, Shanghai Telecom

Fan Xiumin, assistant of Director, Professor at SJTU

Yu Lei, manager of Office, SJTU
---
Research Fields
System Simulation and Virtual Reality/Augmented Reality Research Technology;
Information System and Engineering;
Geometry geometrical model Modeling and Inspection technology.
---
Research Achievements
Advanced Manufacturing Environment Platform(AME Platform)

"AME" is a platform which can support the commercial operation and the service of application on website. It contains four sections, namely, network operation, data center operation, basic service of platform and integrated application service. It integrates seven special technology services like industrial design, rapid development for products and ship performance prediction, and it also integrates five scientific data services of engineering material, steel and metallurgy and the like. It consists of five industrial application services in auto components market, logistics and management of clothing brands, etc.

"AME Platform" was developed by Shanghai Key Lab of Advanced Manufacturing Environment. Shanghai Telecom is in charge of network operations and maintenance of infrastructural facilities. Oriental Info.Tech. takes charge of popularizing the platform. "AME Platform" is the sub-platform of manufacturing industry of Shanghai Telecom's business application platforms (sh.bnet.cn), also the only sub-platform of advanced manufacturing industry of Shanghai R&D Public Service Platform (www.sgst.cn).

Parallel Virtual Reality Development Platform (PVRDP)

Based on lots of major projects' background and achievements of National Natural Science Foundation of China, Ministry of Science and Technology of the People's Republic of China and Science and Technology Commission of Shanghai Municipality, a general technology-supporting platform with different application levels' virtual reality technology research and application was set up. On this basis, we designed "Parallel Virtual Reality Development Platform". It supports for complicated environment's graphical process, effect of sound, interactive operation and interference detection. It consists of application system's standard system structure, interactive treatment mechanism, and flow control. It supports several VR external facilities and supplies easy-extending external facilities' connection mechanism. It packages many modules as dynamic load balancing in virtual environment, LAN communication, geometric model pretreatment, render-supporting and image processing. Thereby it can support the development of parallel virtual reality application software. Currently, many application systems have been developed based on this platform, such as Distributed Parallel Virtual Assembly Environment, simulation system for an electric power plant, simulation for a digitized port system, manufacturing process simulation for a ship crankshaft and so on. It provides a reliable technology support and a promising market of system solutions and products for practicality and industrialization of virtual reality technology.

Fast 3D optical measurement and modeling for complex surface

Three-dimensional optical measurement technology has wide applications in reverse engineering, quality inspection, digital measurement of human body, medical engineering, art reproduction and crafts development. Supported by NSFC and Shanghai Science and Technology Commission, we developed a 3D structure light measurement system integrated with feature extraction for large complex surface. This system is based on structured light projection and triangulation principle. It utilizes a high precision physical grating to produce high-contrast, good-gray-scale-distribution and safe-to-human structured light patterns. The system can measure fast, accurate and easy-operation. Based on this, a measurement and CAD design system is developed for face prosthesis. It uses multiple sensors, CAD modeling and rapid prototyping to achieve digital facial surface. This system has been used in wide-range clinical applications in Shanghai Ninth People's Hospital, reducing time cost and patient suffering, and improving the quality of prosthetic treatment.
---
Cooperation
"SJTU-HNI Joint Competence Center for Virtual & Augmented Reality"- cooperation with the Heinz Nixdorf Institute, University of Paderborn, Germany;
"SAIC-SJTU Engineering Center for Manufacturing System of Integration Technology"-the cooperation with SAIC;
"SJTU-SE Joint Lab for Digitized Design"-the cooperation with Shanghai Electric Group Co., Ltd.;
"SJTU-CSSC Joint Lab for Virtual Engineering Technology of Digital Shipbuilding"-the cooperation with Shanghai Shipbuilding Technology Research Institute
Besides, the key lab has undertaken several important joint projects: with HNI, it designed auto night-driving simulation system which gained the outstanding award in 2005 Shanghai International Industry Fair, and also successfully held 2006 & 2009 "Virtual Reality & Augmented Reality in Industrial Processes" Workshop; with Robotics Institute in Plittecnico di Milano, Italy, Key Lab undertook an international cooperation project-"Intelligent Supervising System of Waste Disposal in Big Area"; The project-"Study on Design and Management of Production Line I" with the cooperation of DAIKIN INDUSTRIES, Ltd, won the silver medal of "SJTU- DAIKIN Joint Research Award"; with Commercial Aircraft Corporation of China, Ltd., we participated in the project of "Research on Product Data Management System Technology Based on MBOM of Airliner"; with Shanghai Shipbuilding Technology Research Institute, we commitment to the project of "Research on methodology of Information Integration Targeted on Shipbuilding Enterprises' Workshop-level and Supply-chain".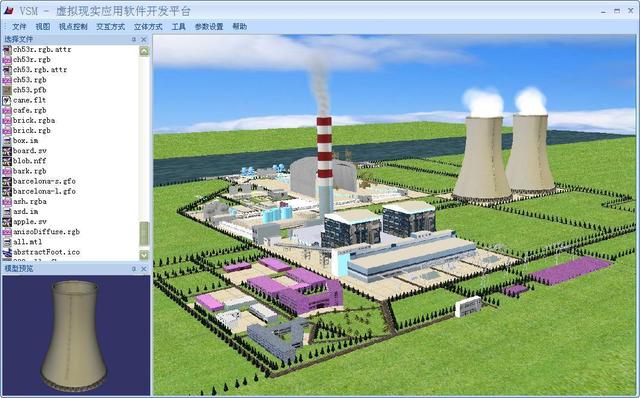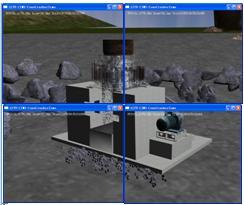 Parallel Virtual Reality Development Platform (PVRDP)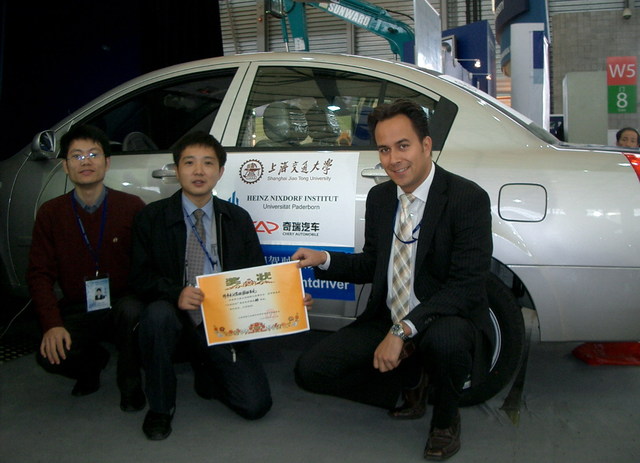 Night Drive