Alumni of 1982 Class Gather at SJTU after 30 Years since Graduation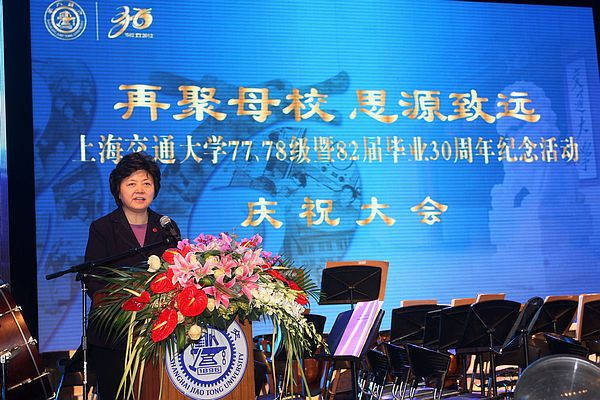 On the afternoon of April 7, 2012, the Celebration Ceremony for the 30th Graduation Anniversary of the graduates of 1982 class was held in Jingjing Auditorium on Minhang Campus, echoing with the SJTU 116th Anniversary of Founding. Nearly 1800 former SJTU students who enrolled in the year of 1977 and 1978 got together at their Alma Mater to recollect the good old days.
The representatives of SJTU attended the ceremony together with the former students, including Chairperson Ma Dexiu, President Zhang Jie, former leaders He Yousheng and Wang Zongguang, Chen Bozhen from School of NAOCE, Wu Minglan, Chen Zhaoneng from School of ME, Zhang E, Song Wentao, Tan Fuwa from SEIEE, Li Xinkun and Chen Chu from SMSE, Chen Yixin from Department of Physics, Sun Qilin from PE Department , and Vice Presidents Su Ming, Lin Zhongqin and Huang Zhen who have been working at SJTU after graduation. The ceremony was moderated by the director of the celebration organizing committee alumnus Zhang Shiming who was the former President of SJTU.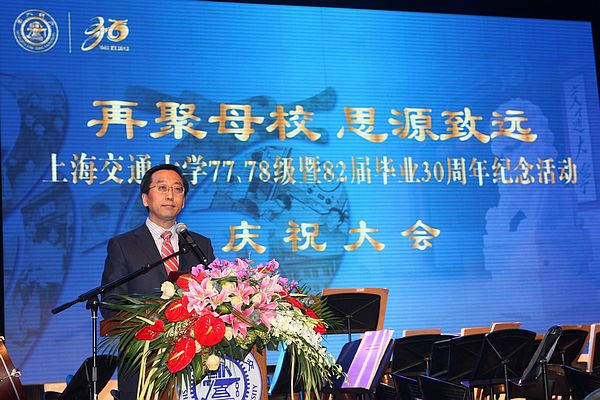 As the peers of the 1977 and 1978 SJTUers, Chairperson Ma Dexiu and President Zhang Jie delivered addresses to extend the warmest welcome to the returning alumni and the most sincere wish that they will remember their Alma Mater on the life road. Lu Yi, on behalf of the alumni, shared his life experiences and harvests since the graduation from Department of Physics with the faculty and students present at this ceremony. He said that the education and training received from SJTU have endowed him with precious knowledge and ability and planted in his mind the seeds of responsibility and gratitude.
On October 12, 1977, China resumed its College Entrance Examination, known as 'Gaokao', after a ten-year-long Cultural Revolution with more than 11.6 billion Chinese students participating, which was regarded as one of the most competitive tests in the history of Gaokao since the enrollment ratio was only 29: 1. The majority of the students of 1977 had only two months to prepare for the exam, creating an upsurge of knowledge learning throughout the country.
The 1977 and 1978 students majored in the disciplines with traditional strengths including mechanical engineering, electrical engineering, ocean engineering, materials engineering, mathematics, physics, chemistry, etc. Sticking to the principle of "high starting points, solid foundation, strict requirements, and keen on practice and innovation", the former students made every effort to realize their individual dreams and make great contributions to the nation and society during the past 30 years.
---
Translated by Hou Yulu | Reviewed by Tian Cong