SJTU Antai EMBA Ranked 10th Worldwide in FT EMBA Ranking 2021
October 18, 2021 Editor: Sun Ruiyan
On October 18, 2021, the Financial Times released the ranking of the world's top 100 EMBA programs in 2021, in which the Antai College of Economics and Management of Shanghai Jiao Tong University ranked 10th in the world and 1st in China's mainland.
As a globally recognized authoritative ranking of business school programs, Financial Times has been launching the annual ranking since 2001. In this year, Antai EMBA is ranked 3rd for average alumnus salary in the world, among top 5 for consecutive two years and climbing up steadily, and the salary increase has been ranked 1st in the world for two consecutive years.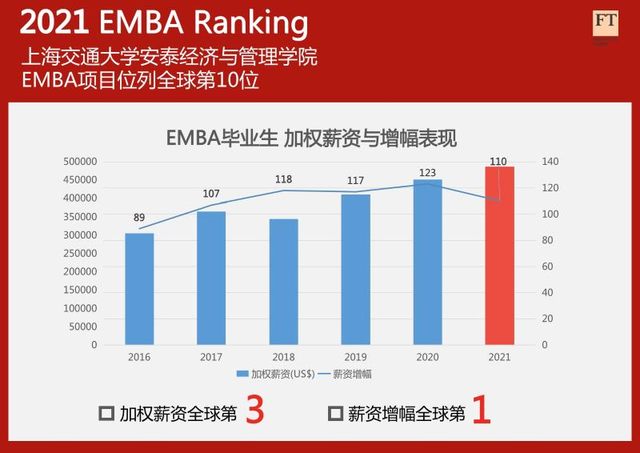 About Financial Times Ranking
First launched in 1999, the Financial Times Ranking is one of the most prestigious global business school rankings and has become an important reference for worldwide applicants to choose their desirable programs. The ranking measures the overall performance and career progress indexes of worldwide business schools with independent questionnaire results on salary growth, career development, company scale, goals attainment, job satisfaction from the alumni as well as objective data on faculty, research, internationalization, and social responsibility of the schools.
Author: SJTU EMBA Center
Source:Antai College of Economics and Management, SJTU
Translated by Chen Chen
Proofread by Xiao Yangning