School of Design Held an Urban Forum of Six Cities
On the evening of 29 September 2021, An Urban Forum of Six Cities - Global City in the Covid Era was successfully held online and offline simultaneously. As one of the major events of the "Shanghai International Week of Architecture and Culture", this urban forum is organized by Shanghai Jiao Tong School of Design and the Architectural Society of Shanghai China (ASSC). Chaired by RUAN Xing, Dean and Guangqi Chair Professor of Architecture, Shanghai Jiao Tong School of Design, with panellists including Sarah Whiting, Dean and Josep Lluís Sert Professor of Architecture of Harvard GSD; Joanna Bacon, Allies and Morrison's managing partner; Sejal Patel, Professor of Planning at CEPT University; Renato Anelli, Adjunct Professor of Architecture at Mackenzie University; WU Jiang, Professor of Architecture, Former Vice President of Tongji University and Robert Freestone, Professor of Planning at UNSW Sydney; they shared the development trends of global cities in the post-epidemic era at home and abroad, presented reflections on architectural design, urban planning, and transnational exchange from diverse angles, and has brought lively and illuminating conversation on the future of global cities.
Global City in the Post-Covid Era
The term "global city", coined by Saskia Sassen in the early 1990s, has become a buzzword for decades. Its benefits and ills, nonetheless, have been largely contested among the academics. The pandemic should have brought the rethinking of the future of global cities to a head, given that the Sassen definition of a global city is based on the transnational and transborder movement of people, capital, technology and culture. In other words, global cities imply more freedom of movement and less control. Much of the "disperse" and "concentration" of the above that make global cities, needless to say, has been severely curtailed by the pandemic. How do we define the future of global cities from the perspective of architecture, urban planning, and design?
The development of cities rise and fall, but they will be great again. Coivd has affected cities in many ways, the potential for rebirth is still yet growing. The innovative practice of global cities represented by Shanghai has definitely provide experience and reflection for the development of this theory.
Focusing Global Issues through Six Cities
Livestreaming through Shanghai Jiao Tong School of Design official Bilibili account, the ASSC and the Roca Gallery official WeChat account, the forum has attracted a total of approximately 6,000 views during peak time.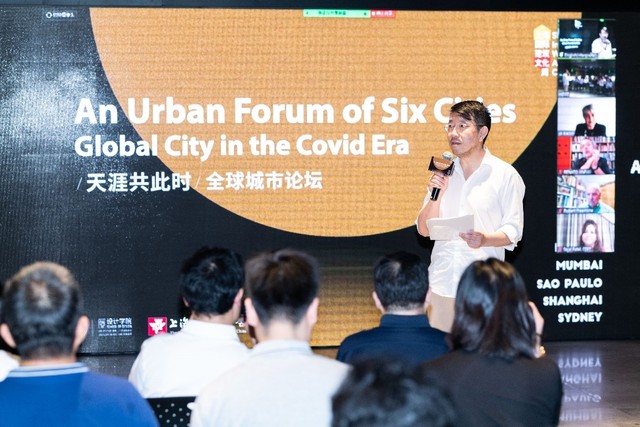 Chaired by RUAN Xing, panellists from Boston, London, Mumbai, São Paulo, Shanghai and Sydney has presented their ideas and launched into a free symposium.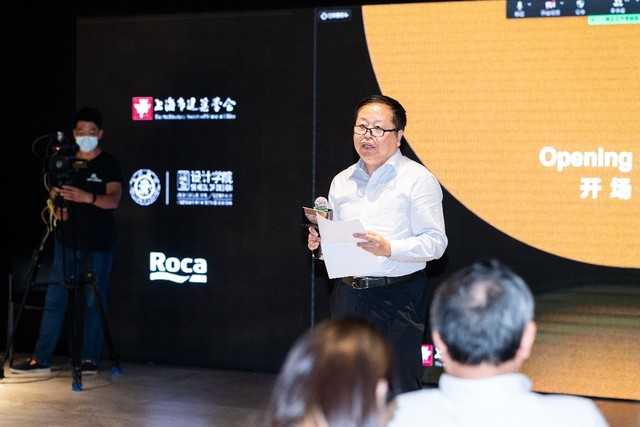 CAO Jiaming, President of Architectural Society of Shanghai China presented an opening speech. He mentioned that Shanghai International Week of Architecture and Culture aims to create an intercultural dialogue with global influence, establish a highland of architectural theoretical design and innovations, and become a hub for cultivating talents and national architecture education. As a professional and authoritative scientific and technological academic group in Shanghai's architecture industry, ASSC has always had good academic cooperations with Shanghai Jiao Tong School of Design. Jointly established the "ASSC International Center for Architecture and Design Exchange" in 2020 they lead and promote industrial exchange and development, unite and organize professionals in the field of architecture and design at home and abroad, as well as to help improve the cohesion of the industry and resource structure. This forum is exactly in line with the original intention of holding Shanghai International Week of Architecture and Culture and will further strengthen the cooperation and exchange of the center.
Sarah Whiting first introduced the history of global exchanges. Since the 21st century, the cross-border flow of personnel has been further intensified. Boston, being as quite an academic hub has gathered the world's top colleges and universities, and it is more necessary to further strengthen global exchanges. She cited the arguments of Francois Julien, a French sinologist, and put forward: can culture and design exceed the homogenization of the global economy and become a new phase of globalization? Subsequently, Joanna bacon raised the question of "Can a city be less like a city and more like London?" and believed that how London can find its own identity and explore its urban DNA is the way. Sejal Patel first analysed the four development phases of Mumbai becoming into a global city. In the post Covid era, Mumbai faces the same opportunities and challenges. The challenge lies in the social spatial polarization while the key opportunity is the democratic devolution and participatory urban governance. Renato Anelli has been working with the impact of Covid in São Paulo since April 2020, gathering information and analysing maps, public policies, figures, in geographical scale, as specificities of transportation services and housing conditions, especially the inner density of dwelling. He believes that increase of international inequality is the real threat to the transnational exchange that defines the nature of a global city.
WU Jiang pointed out that in the post Covid era, we should pay more attention to the cultural characteristics and attributes of cities, actively embrace the trend of globalization, and further reflect on what role a global city should play in the process of globalization. In Shanghai 2035 plan, Shanghai is committed to build a more open and coordinated development pattern, showing a planning vision of "global interconnection and regional coordination". Study the strategic framework of Shanghai's global urban development from a broader vision and to form a "connected, multi-centered, integrated group" spatial system. Robert Freestone used Sydney as a vivid example, considered that the post Covid era is another new vigorous chapter and it is in a long tug of war between the forces of centralization and forces of decentralization, in which CBDs will be a massive economic lever.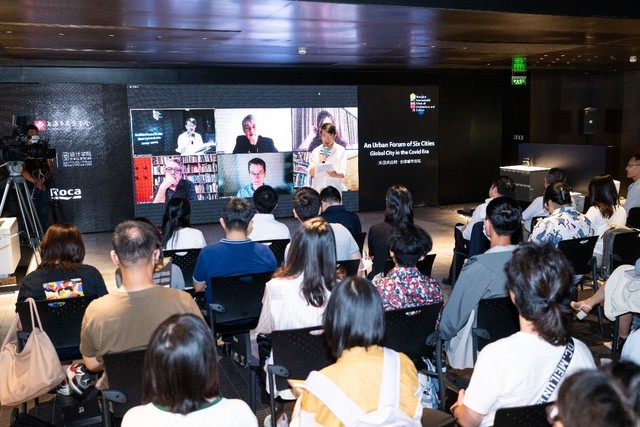 The forum came to an end with sparkling debates between the audience and the panellists. In conclusion, Sarah Whiting expressed that this forum could help further explore the issues on scales and housing that interest her the most. She also echoes the call to heed the climate/environmental challenge and hope that climate consciousness can underpin all ways of work and life.
With the innovation of technology and development concept, informatization, low-carbon and regionalization have formed a trend of "decentralization" in urban development. The core competitiveness of global cities facing new challenges in the post Covid era urgently needs response from global urban researchers, planners and practitioners. City has a complex, diversified and open operation system. Because of the diversity and openness of this system, the city can keep pace with times and absorb opportunities. In the past two decades, various types of global cities have been popped up. Functioning as global actors, they have even surpassed countries in the perspective of culture, education, professional talent flow and entrepreneurship. Each city will show unique advantages in a specific field, making it different from other cities. Internationalization is one of the key characters of Shanghai. Shanghai became an important trade center more than a century ago, its strength of openness and innovation has made it stand out in the process of building an excellent global city.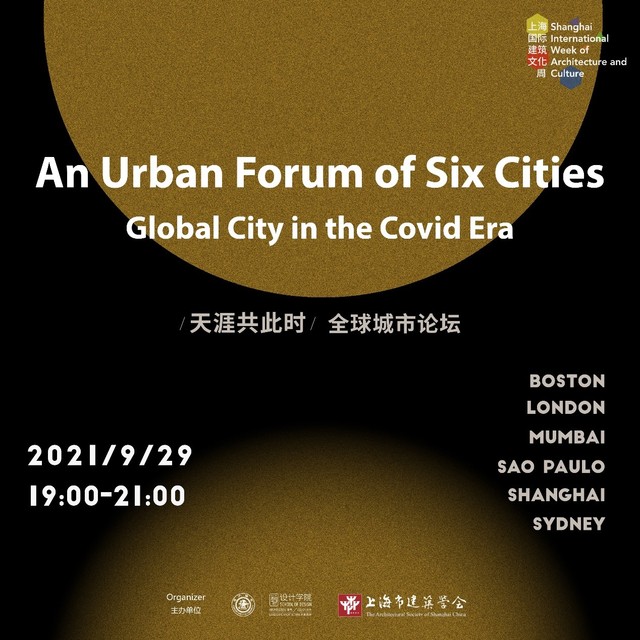 Source: School of Design, SJTU