Prof. Ruzhu Wang from Shanghai Jiao Tong University Awarded the Georg Alefeld Memorial Award
The International Sorption Heat Pump Conference 2021 (ISHPC 2021) was organized by Technical University of Berlin and held online on August 22-25. Prof. Ruzhu Wang from Shanghai Jiao Tong University was awarded the Georg Alefeld Memorial Award at the closing ceremony of this conference, for his high contribution to the sorption heat & mass transfer field, the huge number of students supervised in thermally driven heat pump technology and his activities in real plant constructions.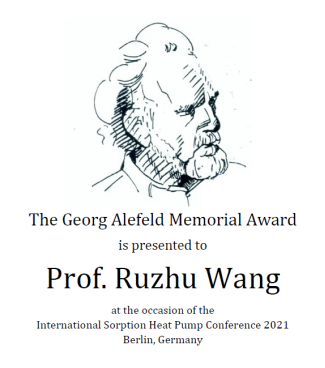 Georg Alefeld Memorial Award was established by the Scientific and Technical Committee of the International Ab-Sorption Heat Pump Conference in 1996. It is to honor and commemorate Professor Dr. Georg Alefeld - a researcher, educator and author who has made outstanding contributions to the field of absorption heat pumping technologies. Previous winners of this award include Prof. Gershon Grossman from the Technion-Israel Institute of Technology, Prof. Felix Zigler from Technical University of Berlin and Prof. Takao Kashiwagi from Tokyo Institute of Technology.
Prof. Wang is chair professor of Shanghai Jiao Tong University and the director of the Institute of Refrigeration and Cryogenics. He is a recipient of the National Natural Science Award, National Invention Award and National Teaching Award of China. He also received many international academic honors including the J&E Hall Gold Medal from the Institute of Refrigeration, the Nukiyama Memorial Award from the Heat Transfer Society of Japan, the Gustav Lorentzen Medal from the International Institute of Refrigeration (IIR), and the Peter Ritter von Rittinger International Heat Pump Award from the International Energy Agency (IEA).
Source: School of Mechanical Engineering, SJTU