SJTU Paper Honored Cell Press Most Picked Chinese Paper Award 2020
Winners of the Cell Press Most Picked Chinese Paper Award 2020 were announced on 17,November. The paper "A Thermal Management Strategy for Electronic Devices Based on Moisture Sorption-Desorption Processes" published in Joule and written by Prof. Wang Ruzhu's team of SJTU School of Mechanical Engineering is the only SJTU paper to attain this honor. Doctoral student Wang Chenxi is the first author of the paper, and Prof. Wang Ruzhu is the corresponding author.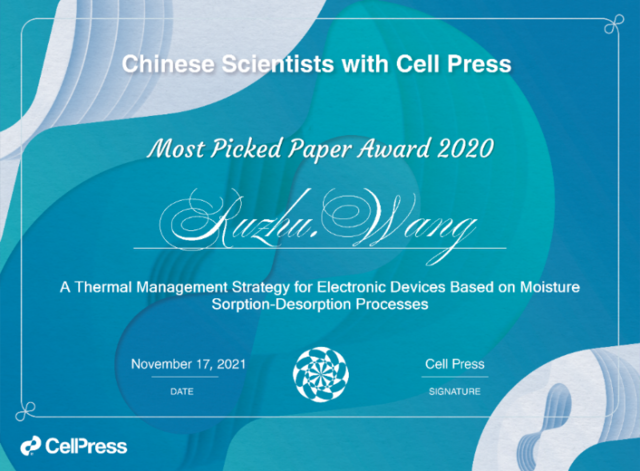 In this paper, the team introduced a new thermal management strategy through the moisture sorption-desorption processes of solid sorbents, shedding new lights on the current studies about electronic heat dissipation. This strategy could be extended to more sorbent materials and is applicable to more scenarios, such as smart phones, fast charging of lithium batteries, 5G communication base stations, photovoltaic power generation and other occasions with typical periodic heat dissipation requirements.
As a crucial part under the campaign "Chinese Scientists with Cell Press", since 2015, Cell Press has been organizing Chinese papers published in its journals every year and systematically introducing Chinese scientists' achievements in various fields, including life science, material science and interdisciplinary science, etc. In 2020, among 785 Chinese papers in life science, material science and interdisciplinary science, the Cell Press Annual Chinese Paper Awards were given to 30 papers and Cell Press Most Picked Chinese Paper Awards to 15 papers.
Paper Link: https://doi.org/10.1016/j.joule.2019.12.005
Summary
Currently, the thermal management of electronics has been drawing growing attention. The use of latent heat emerges as an attractive means for intermittent heat dissipation. However, traditional phase change materials (PCMs) are limited by their relatively low enthalpies. In this paper, we demonstrate a passive thermal management strategy through the desorption process of water inside sorbents. The spontaneous adsorption enables self-recovery of working capacity at rest mode. The basic guideline for selecting proper sorbents is outlined. In the proof-of-concept test, we coated MIL-101(Cr) powders onto metallic substrates. The coating of 0.288 g achieved a temperature drop (maximum 8.6°C) for 25 min at a heating power of 1.5 W. The equivalent enthalpy of the coating can be up to 1,950 J/gcoating, indicating a significant improvement compared to that of traditional PCMs. Our results suggest that this strategy could find promising applications in a variety of practical scenes.
Author: The Institute of Refrigeration and Cryogenics
Source: School of Mechanical Engineering, SJTU
Translated by Wang Hui
Proofread by Xiao Yangning