SJTU, Guangxi Zhuang Autonomous Region Signed Strategic Cooperative Agreements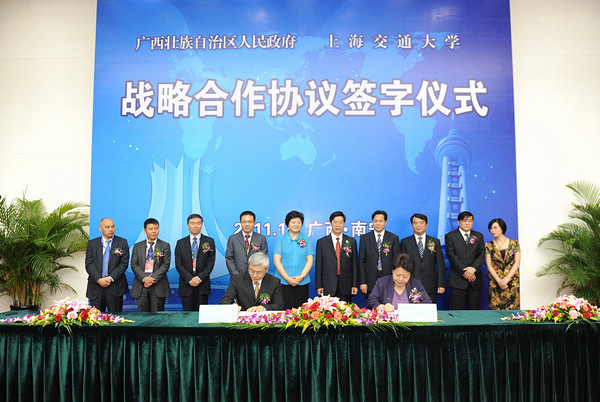 From October 19 to October 22, 2011, the large-scale activity "SJTU-Shanghai Famous Enterprises Traveling in Guangxi" was held in Guangxi.
The delegation headed by Chairperson Ma Dexiu, was composed of Vice Presidents Su Ming, Xu Fei, Wu Dan, Li Jianqiang and other school leaders of SJTU, leaders from relevant associations and departments and well-known entrepreneurs from EMBA Alumni Association, China Chief Executive Officer Club and Shanghai Services Federation. The delegation of more than 150 persons went to Nanning, the "Green City" of Guangxi, to carry out cooperation and exchange.
In the activity, SJTU signed a strategic cooperative agreement with Guangxi Zhuang Autonomous Region. Enterprises of SJTU alumni signed 10 projects, including "Ningbo Small & Medium-Sized Enterprises Industry Park" and "China-ASEAN International Agricultural Commodities Logistics-Port", with parties concerned in Guangxi. These projects include multinational purchase, production of automobile parts, "Internet of Things", the construction of Industry Park and so on; and cover various industries, such as logistics, automobile and tourism, a total investment of about 8,530,000,000RMB.
In addition, Office of Research Management signed cooperative agreements with Science and Technology Department of Guangxi Zhuang Autonomous Region and SAIC-GM-Wuling Automobile.SJTU Education and Training Center for Cadre signed a cooperative agreement with the Organization Department of the Party Committee of Guangxi Zhuang Autonomous Region. Cooperative agreements on production, education and research were signed between SJTU School of Mechanical Engineering and Guangxi Liugong Machinery, Yuchai Group and other famous enterprises in Guangxi.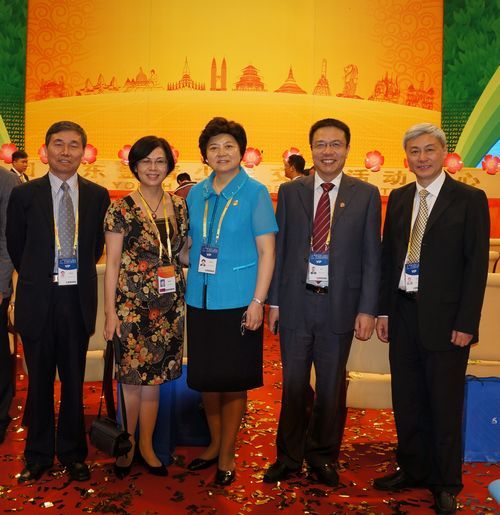 With the theme of "Be in Hand with New Highland, Assist in Promotion, and Share New Opportunities", the activity also held a series of related events, such as Guangxi Key Industries Introduction and Negotiation Conference for Promotion, Investment and Trade, Summit Forum between Shanghai-Guangxi Entrepreneurs and Symposium on Strategic Cooperation between SJTU and Guangxi. Some alumni entrepreneurs made on-site visits to Guilin, Liuzhou, Beihai, Qinzhou and other areas to conduct business talks and promote the realization of project cooperation.
Faced with the construction of innovative country, SJTU has always regarded the Strategy of Serving the Society as one of its most important strategies, and manage to promote synergic innovation through strengthening SJTU-local government cooperation and SJTU-enterprise cooperation.
SJTU hopes to absorb dynamics of development while serving the economical and social development of both country and regions; create opportunities and seek for the breakthrough for innovation in free thinking. For quite a long time, SJTU has kept good cooperation with Guangxi on university-enterprise cooperation, brain cultivation, leadership exchange, research results transfer and other aspects.
---
Translated by Zhen Yinghui | Reviewed by Tian Cong