【SHINE】Over 500 additional medical staff heading to Wuhan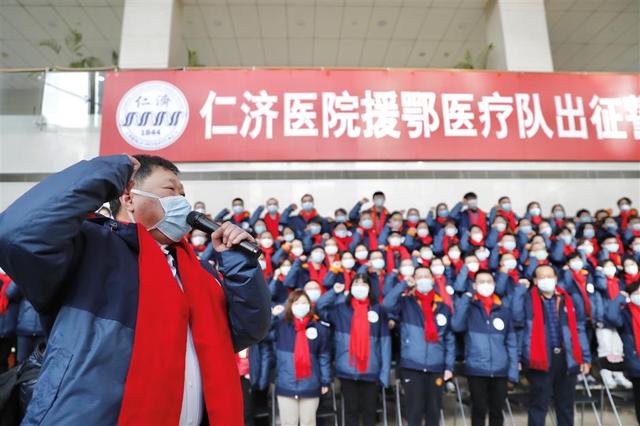 Dr Zhang Jidong from Renji Hospital, head of the medical team, leads his staff in taking an oath before leaving for Wuhan on Wednesday morning.
A total of 513 medical staff from six hospitals left Shanghai for Wuhan, heart of the ongoing coronavirus epidemic, on Wednesday.
This is the largest batch of medical professionals that Shanghai has sent to Wuhan. The team will support Leishenshan Hospital, Wuhan's second emergency hospital for coronavirus patients, said the Shanghai Health Commission.
So far, over 1,500 local doctors, nurses and support staff have gone to Wuhan.
Local hospitals received an order from the central government on Sunday night and called for doctors and nurses willing to go to the frontline.
"We received applications soon after it was known that our hospital was required to dispatch 150 medical staff," said Min Jianying, an official at Renji Hospital. "Many medical staff were eager to go and we chose the most experienced doctors and nurses from the intensive care unit, the respiratory disease and infectious departments, as well as from other support departments."
Min said the hospital and its staff were waiting for such an order. "We had been preparing luggage and protective outfits since the national health authority started to send medical teams to Wuhan," she said.
Hospital officials helped pack cases overnight on Monday to ensure that every team member was well equipped for the mission.
Renji Hospital sent a team of 60 doctors, 90 nurses and six management and support staff, with members aged between 23 and 59.
A doctor bids farewell to a colleague who answered the call to serve in Wuhan.
Doctors and nurses hug their colleagues before the team left for Wuhan on Wednesday.
Zhou Lingyi and Yu Jinghai, both Renji nurses, postponed their wedding on February 28 to go to Wuhan together.
"The one who is left in Shanghai will worry about the one who is away, so we decided to go together," said Zhou, who cut her long hair short as a precaution against infection. "The wedding can take place when we come back."
Dr Fan Xiaohong, leader of a 51-member team from Shanghai Sixth People's Hospital, said this will be her first time in Wuhan.
Fan's son is sitting the high school entrance examination this summer. "I cooked a special meal for my son and encouraged him to make good preparations for the battle ahead of him. I will lead my team members to take part in a much bigger fight," she said.
She said doctors and nurses issued application at the last minute before the team left and one infection control expert was added into her team on Tuesday evening after repeated application and the demand for infection prevention.
Medical staff at Shanghai Sixth People's Hospital pack their cases before setting off for Wuhan.

Hospital officials at Shanghai Sixth People's Hospital make sure that every member of the team sent to Wuhan has everything they need.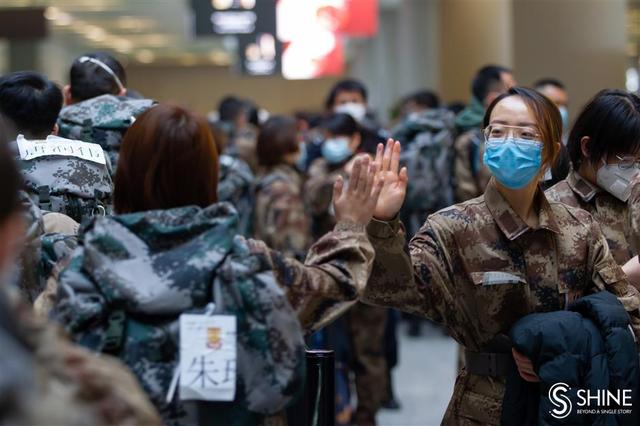 Members of the medical team cheer with each other while arriving at the airport for flying to Wuhan.
The largest batch of medical team left Shanghai for Wuhan on Wednesday.
The 513-member medical team takes a picture in the airport before leaving for Wuhan on Wednesday.