【SHINE】Doctor wears a 'spacesuit' to help Wuhan
Editor's note:
Many Shanghai medical workers are already in or on their way to support Wuhan, a city now severely stricken by the novel coronavirus outbreak. They are called "the most beautiful people who are going in the reverse direction than most others" by the public. They are combating the new epidemic on the frontline to protect people in the nation. Some of them shared their work experience in Wuhan with Shanghai Daily.
When Dr Jiang Kai's 6-year-old daughter saw medical staff dressed in "spacesuits" on television, she told her father it would be "cool" if he wore one.
But her excitement turned to tears when she had to say goodbye to him a couple of weeks ago. Jiang, a traditional Chinese medicine doctor at Shanghai Yueyang Hospital of Integrated Traditional Chinese and Western Medicine who was sent to assist Wuhan, recalled the scene as he saved lives on the frontline.
"My daughter celebrated her birthday several days ago," Jiang said. "When I learned that my application to be one of the medics sent to help Wuhan was approved, I was happy at the news because I could fight against COVID-19 with my colleagues. But that also meant I would miss my daughter's birthday party. I felt sorry for her."
It was the first time Jiang had missed his daughter's birthday. "Before my departure, when I was watching television at home with her she pointed at the medical workers in protective clothing and told me that they were dressed in 'spacesuits.' Then I asked her if I could wear a 'spacesuit.' She said 'Really? It's cool!' "
However, on the day Jiang left home, the girl hugged him and burst into tears. "She is too young to understand why I have to go to epidemic-stricken Wuhan," Jiang said. "But when she grows up, I believe she will be proud of me and my decision."
When he first arrived at the newly built Leishenshan Hospital, the second emergency hospital for coronavirus, the wards were empty. Now the ward he's responsible for has 48 patients.
Staff worked day and night at the hospital, along with building workers applying finishing touches to the building.
Their efforts are rewarded as more and more patients are getting better or being discharged after recovery.
"In our team of traditional Chinese medicine doctors, each of us has been practicing medicine for over a decade. Every day, we spend all the time apart from sleep and meals on brainstorming and working out therapies," Jiang said. "We try any measures that can help the patients and our efforts did cure many."
Before being released from the hospital, Wang, a 75-year-old woman, wrote a letter to show her gratitude. "The Shanghainese are always doing things carefully and meticulously and now the carefulness is used on taking care of us. I'm glad that I can be treated by your team," Wang wrote.
"Saving the dying and helping the injured are our missions," Jiang said. "And the thought of protecting my daughter makes me strong. For me, it's a great honor to be with the teams of 'the bravest people' to support Wuhan and protect our country. My daughter, after I kill the virus, I will return home and be on your side."
Dr Jiang Kai is dressed in protective gear at Leishenshan Hospital, clothing that his 6-year-old daughter described as a "spacesuit" when she saw it on television.
Meanwhile, Shanghai Sixth People's Hospital received a letter from a nurse's father in Anhui Province.
Xie Yali, a respiratory nurse at the hospital, has been in Wuhan for more than a month.
She didn't tell her parents to prevent them from worrying too much. But they saw her on the news. Although they still worry, they gave her their full support.
In his letter, the father expressed the hope that she could be given leave of a few days after the epidemic is over so she could return home and be with them for a while.
Xie's sister told her that their father wrote the letter at midnight and mailed it to the hospital without letting anyone know.
"In my impression, my father is a strict and quiet man who doesn't talk much with us. When he has something to say, he often asks my mother to contact me. So it's surprising that he wrote a letter to my boss," said Xie.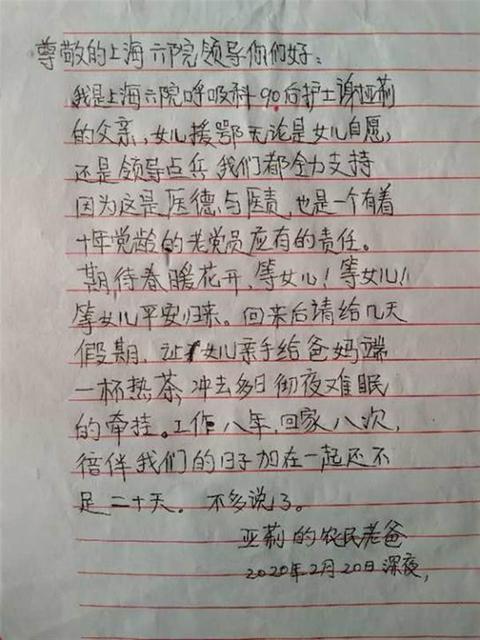 The letter nurse Xie Yali's father wrote to Shanghai Sith People's Hospital asking if she could be given leave.