【Shanghai Daily】Fund Launched for Rural Teacher Training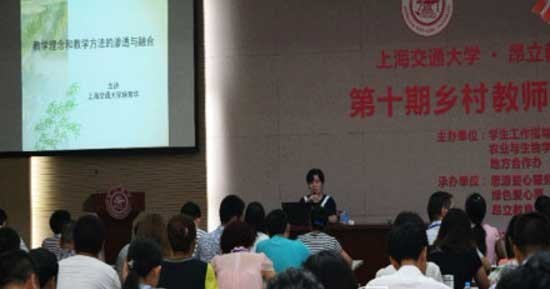 Shanghai Jiao Tong University launched a charity fund yesterday to expand a training program for teachers from schools in China's rural areas.
The teacher training program, launched by a student charity group Siyuan Loving Club in the university 10 years ago, can now train 90 teachers from China's less developed central and western regions every year.
Zhu Jian, deputy party chief of the university, said that Jiao Tong is looking for support for the program with more resources such as trainers, student volunteers and donations.
"It is important to train teachers if we want to encourage broader mind and higher aspiration among students," he said.
The cost of 10-day training for each teacher is about 1,250 yuan that cover travel and living expenses.
Trainers and organizers all work for free, according to the Siyuan Loving Club, which is run by students from the School of Agriculture and Biology.
The club was set up in 2006 by rural students, who later launched the program to change the situation of schools in their hometowns and countryside.
Initially Jiao Tong students made the trip to Fushun in 2007 to provide training to 35 rural teachers. It was moved to Shanghai in 2012 with support from the Shanghai Charity Foundation. The training was also expanded from mere teaching methods to skills and concepts like first aid and self-development, as well as visits to Shanghai schools and exchanges with local teachers.
"The program broadened my mind and showed me how vigorously Shanghai students are pursuing their dreams," said a teacher surnamed Zhang from Inner Mongolia. Zhang had never been to a university before.
---
Source: Shanghai Daily