【Shanghai Daily】A Lecture in the Garden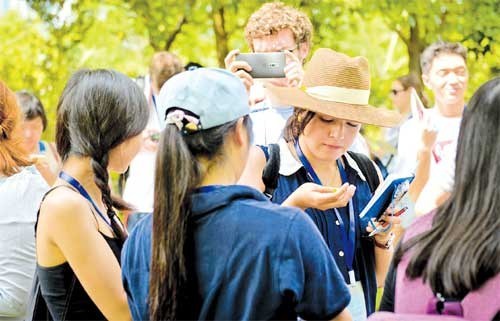 A group of 65 university online students from 11 countries examined a wide variety of plants used in traditional Chinese herbal medicine yesterday at Shanghai Jiao Tong University's botanical garden.
They touched and smelled herbs while associate professor Liu Zhong explained how they are used to help people.
The session was part of the English version of the university's Traditional Chinese Medicine and Chinese Culture course, which went online in March on the website of the CNMOOC (www.cnmooc.org), the leading Massive Open Online Course platform in China. It has attracted about 150 international students.
The course, taught by associate professor Peng Chongsheng of the School of Medicine at SJTU, combines online learning with offline face-to-face discussions, which is also known as a "flipped class."
The first stage of the course, which is entirely online and open to everyone, consists of lectures on subjects including the yin-yang theory and Confucianism.
MOOCs are becoming increasingly popular. Peng's course on TCM first went online on United States-based Coursera, a leading global distance education platform, back in 2013, one of the first MOOCs in China's mainland to do so, and has attracted more than 60,000 students.
It was put on CNMOOC the next year and over 10,000 students across China have taken the course.
The group of 65 students arrived in Shanghai three days ago to participate in the second stage of the course, which will include two weeks of group research and presentations, visits to traditional Chinese medicine museums and enterprises, and a special tai chi class.
---
Source: Shanghai Daily