Set Free Imagination! ICCIers Took Champion in 2021 Disney Imaginations Shanghai Design Competition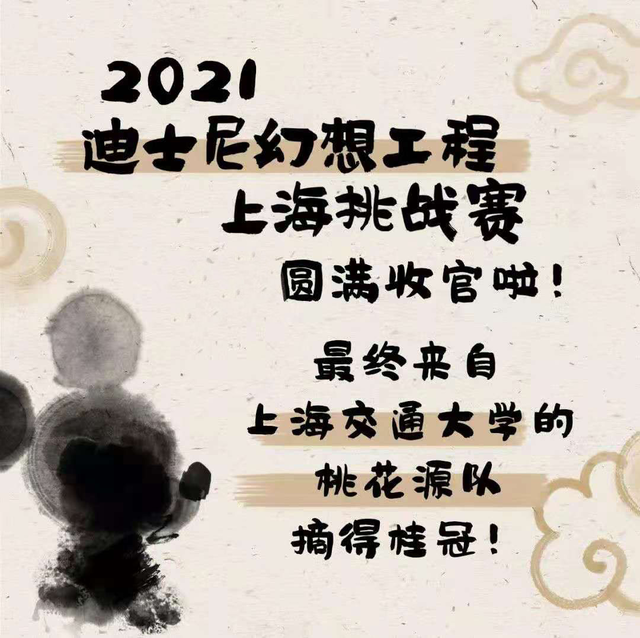 Several days ago, the third Disney Imaginations Shanghai Design Competition was held successfully. Five teams from Shanghai Jiaotong University, Tongji University, East China University of Science and Technology, Shanghai Institute of Visual Arts, and the China Academy of Art respectively stood out from numerous participants and they competed heatedly with each other by presenting their project proposals to a panel of experts during the finals. After a round of eye-opening presentations, team "Peach" from Shanghai Jiao Tong University, with their project – "The Arcadia"– was awarded the first prize for their creative concept, strong storytelling and presentation skills. The team "Peach" consists of students from both ICCI and the School of Design, SJTU.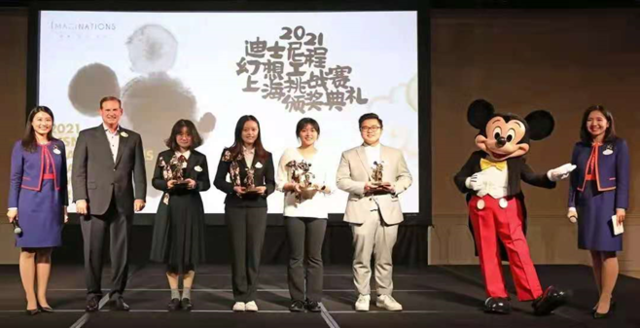 Two students from ICCI, Chen Haiyue and Huang Leni, are responsible for copywriting and animation production, and script writing and planning respectively. Under the guidance of Maggie Li, the teacher of ICCI, they worked closely with students and teachers from the School of Design, and achieved success. Let's interview them to know more about their experience and feelings about the competition.
Disney Imaginations Shanghai Design Competition
Since 2018, the annual Disney Imaginations Shanghai Design Competition, organized by Shanghai Disney Resort with participation from Walt Disney Imagineering Shanghai, is aimed at seeking out and nurturing the next generation of diverse Imagineers. Inspired by the design competition founded by the Walt Disney Imagineering in 1991, this competition is dedicated to bringing in the best creative practice of Disney Land to the local entertainment industry and nurturing Chinese talents. Over the years, students from numerous universities have taken actively part in this competition and showcased their creativity and design skills to the Walt Disney Imagineers. Many candidates successfully gained internship, and realized their dream of creating future themed parks with experienced Imagineers. This year, Disney worked with ten Chinese universities and it is looking forward to attracting more design and creative talents.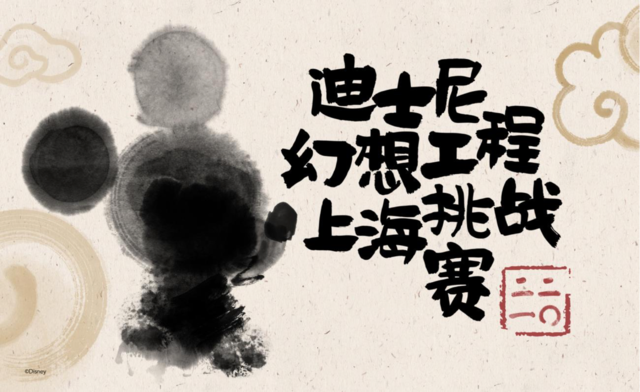 Disney Imaginations Shanghai Design Competition offers students an opportunity to showcase their skills and talent. In the competition, students can form cross-disciplinary teams, in which they can make full use of their own expertise and infinite creativity to complete the project. Competing teams need to put their artistic taste, technological and communication skills to good use, and apply multiple elements like graph, model, games and videos to finish their work and submit to a panel of experts in creative and technical areas.
This year's contest presented participants with the unique challenge of imagining the daily lives of humans several hundred years in the future, and then having them pitch a compelling idea that would provide an immersive experience to a wide range of guests. The winning work The Arcadia establishes a future society based on the classic story The Peach Garden. In that society, the mankind executes the Project Arcadia to build up a giant peach tree and an AI Kylin.
However, this kind of artificial homeland is just a visionary utopia, in which the balance of science and nature is broken and residents are faced with crisis. Like what happened to villagers of Wuling depicted by Tao Yuanmin, the heroine of the story Lin strayed into the peach garden and entered the body Kylin by accident, starting a magical journey.

Team Member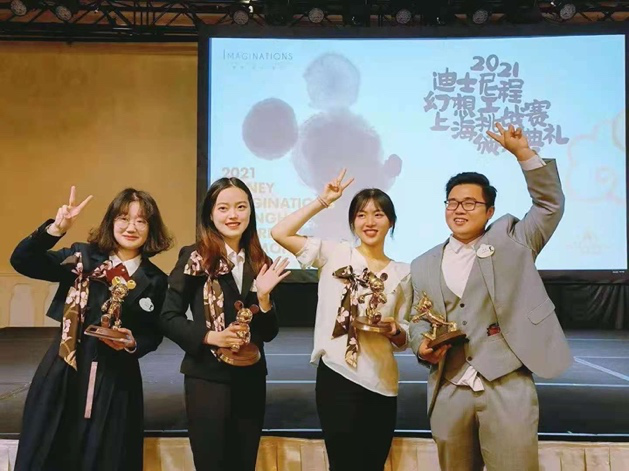 Jie JI, School of Design, team leader, Visual and Design
Haiyue CHEN, ICCI, copywriting and animation producing
Leni HUANG, ICCI, script writing and planning
Cai XIN, School of Design, Interface and Rendering
Instructors: Maggie LI(ICCI), Bo LIU and Zhao LIU(School of Design)
— script writing and planning
As a student in the Department of Journalism and Communication, I was mainly responsible for the script writing and planning in the team. During the early-preparation stage, my team and I brainstormed about the design concept together, and I drafted the whole story; at a later stage, I took charge in deciding the general procedures of the showcase, preparing the PowerPoint slide and conducting the stage presentation during the competition. Also, I performed in the show.
When I first knew the Walt Disney Imagineering (WDI)'s imaginations design competition, I considered it as a design-centered one, and my lack of knowledge on visual designing and computer modeling and rendering made me feel that I couldn't do anything in it. However, Maggie Li, our supervisor, helped me build my confidence by her sincere words and continuous encouragement. She emphasized the importance of script writing and stage presentation in the competition, and both of which were the fields that I could give my full play in. With the support of Maggie, I fully devoted myself to the preparations thereafter. During the two weeks before the competition, we held 2 to 3 meetings every week to improve our ideas and make our work better. Maggie was kind but strict, who always required us to strive for excellence. At first, she commented on our work with "it's still not enough…no details, no rigorous logics, no attraction…", and these words inspired us to keep improving on our work.
We based on the story of "Peach Blossom Land", full of fairytale imaginations, and decided to design and display our show via telling fairy tales to the audience. I acquired much inspiration from reading English fairy tales and poetry, such as the vivid words and expressions, detailed psychological descriptions, and the flexible and precise usage of grammars in each line.
From this experience, I deepened my understanding on the huge power of "telling a story" and meanwhile learnt how to cooperate with members from different departments. All in all, the teamwork spirit, the cooperation between us and the passion towards the competition did bring me much joy and fun!

— copywriting and animation producing
I was mainly responsible for the copywriting and animation producing in the team, including earlier story-writing and later animation-production via AE and other supportive work.
When preparing for the preliminary, we just came up a relatively vague idea— to tell a story about the future world based on the story of "Peach Blossom Land". Under the guidance of Maggie, our supervisor, we conducted several brainstorming discussion to figure out the storyline. In order to make it a punchy, page-turning story and to present it smoothly and completely within limited time, we repeatedly revised the outline and story stuffs, which was a process of giving up and cutting off.
After the preliminary, the faculty from both ICCI and School of Design carefully reviewed our work, helping us analyze and explore those detailed problems we encountered one by one. In particular, Maggie was quite good at instructing and inspiring us to make innovations, and also offered us useful suggestions on designing and producing; she always reassured us by her warm words and encouragement if we felt anxious or nervous.
The competition lasted for five months but the whole processes strengthened our team more and more. We had been undertaking our respective responsibilities carefully and orderly until we finally went onto the showcase stage saying thank you to all. Only at that moment did we feel relieved. From this experience, I deepened my understanding on the great importance of teamwork, and also got attracted by the amazing "chemical reaction" produced through interdisciplinary cooperation.
Maggie LI
Instructor
The Disney Imaginations Shanghai Design Competition, originated from America, is a high-level student competition in the design area. This time, our team members have different disciplinary backgrounds. Leni and Haiyue comes from the Master program of Journalism and Communication and MFA respectively.
Our final work has gone through a long polishing process. From setting the concept of the story, interactive design, to storytelling and final presentation, great thoughts have been put into every detail and step for improvement. This requires each team member to perform his/her duties and fully utilize their talents, which demonstrates the advantage of a cross-disciplinary team. I hope to share the experience of this competition and encourage more ICCI students to take active part in cross-disciplinary project development and professional competitions, giving full play to their talents and making greater achievements.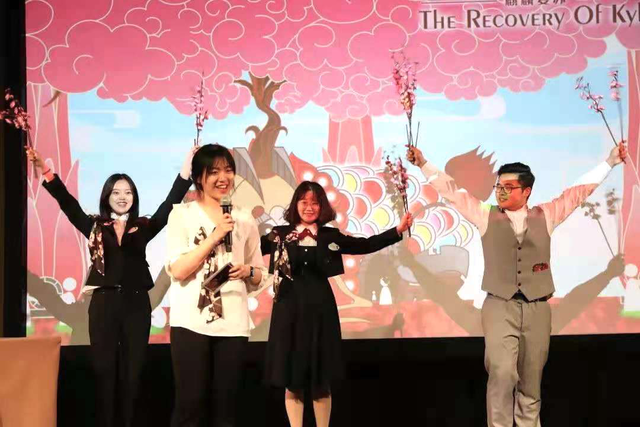 As the champion team, team "Peach" will not only receive a cash prize, but also the opportunity to have internship at Shanghai Disney Resort. Moreover, all team members will have a fully sponsored trip to Shanghai Disney Resort, where they get to explore behind the scenes with Imagineers at Walt Disney Imagineering Shanghai, learning from some of the most creative minds in the industry.
Source: USC-SJTU Institute of Cultural and Creative Industry