Responsibility the First Lesson for SJTU Freshmen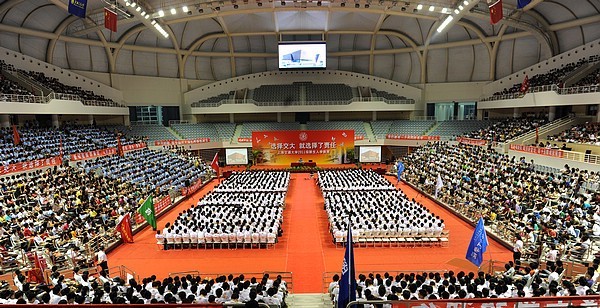 On the evening of September 7, all the freshmen of 2011 class attended their first university lesson about "Responsibilities that SJTU-ers should shoulder" on Minhang, Xuhui and Luwan Campuses. It was given by Professor Ma Dexiu, Chairperson of SJTU Council. And it is the sixth time for Chairperson Ma to give the "responsibility lesson" to new students since the year of 2006. "Responsibility education" is the all-the-time "compulsory course" for every SJTU student and it lasts from their first lesson to the final graduation. By then, "responsibility" will have long been a spirit coagulated in their blood.
To inherit responsibilities from history
When it comes to memorable courses, touching stories and superior SJTU-ers, it is also a history lesson since SJTU has crossed over three centuries since its founding in 1896. With great affection to SJTU, Ma Dexiu talked about its long history, large numbers of talented people it has cultivated, its outstanding contributions and deep-rooted culture, which all impressed the freshmen deeply.
The fundamental mission of SJTU is to cultivate innovative leader talents. "SJTU is the cradle for numerous leaders and elite for the country," Ma Dexiu numerated every name of the famous alumni: "Jiang Zemin, Wang Daohan, Qian Xuesen, Wu Wenjun, Mao Yisheng, Zou Taofeng... they make SJTU proud and should be engraved on our mind forever."
As to contributions to the society, Ma Dexiu said SJTU always takes the country's prosperity and the national revitalization as its own mission. It has made great contributions to China's economic, technological and national defense development. It is a university to boost the rapid advance of modern Chinese science and technology, economy and national defense. It is home to scientific rationality, knowledge innovation and scientific invention.
SJTU has formed its unique culture in the long course of university running. Ma Dexiu said the university will always promote the motto of "Gratitude and Responsibility" with a rich cultural heritage accumulated, and that is the patriotic spirit of dedication to the people and the country, the scientific spirit for the pragmatic pursuit of excellence, and the innovative spirit of progress and pioneering.
To sense responsibilities from soaring up
Coming out from its historical pictures, Ma Dexiu led new students into the current development vision of SJTU and let them sense the responsibilities and the momentum and pulse of SJTU marching.
First-class faculty is an important feature of the core competitiveness a university boasts, and also the crux in cultivating innovative talents. Ma Dexiu assumed freshmen that a group of China's top scientists who are engaged in frontier science of world, a large number of overseas high-level personnel, a group of teachers who devote themselves to education, they are all here at SJTU. Being accompanied with truth, befriended by masters, it will be a kind of luck new to students.
Chairperson Ma also briefed freshmen on the science palace, strong academic atmosphere and distinctive internationalization of SJTU. And she stressed that at a new historical starting point, to build SJTU into a world-class university is not only our historical responsibility but the common vision and pursuit of all SJTU-ers.
To shoulder responsibilities in striving
In this first lesson delivered by Chairperson Ma, New SJTU-ers started their university life in dream and striving. Ma Dexiu hoped that they should learn knowledge and conduct themselves to become the SJTU-er with lofty ideals and faith, sound knowledge structure, rich practical experience and a strong body. And they should be physically and mentally active and have a sense of social responsibility. Ma Dexiu told them to uphold the fundamentals of humanness, to apprehend the path to learning, and to lay the foundation for their occupation.
"Behaving oneself and learning knowledge are inseparable like the wings of a bird." Ma Dexiu hoped that students can attach particular importance to "self-improvement", "integrity" and "dedication". And she told new SJTU-ers to grasp the most critical stage of growth to pursue knowledge, since every SJTU student should adhere to the principle of "learning with pleasure, diligence and innovation". Only in this way, can they, the generation growing up in Reform & Opening-up and witnessing China's rapid economic growth and its upgrading international status, make more contributions to China and even to the world when it comes to their turns.
"Being SJTU students, you choose responsibilities as well", Ma Dexiu said: "let it run through your blood and coagulate into a spirit."
The Lesson One given by Chairperson Ma won the prolonged applause and caused the great echo among new students. Huang Weilin from School of Media and Design said: "I feel the heavy responsibilities on my shoulder after listening to Chairperson Ma's first lesson. And I deeply feel that becoming an SJTU student is not only about my own future. Making contributions to the country and people is more important. This lesson helps me make an overall planning of my four-year college life, with a clear life goal, a broad vision and firm confidence in the future." You Shaolei from School of Mechanical Engineering shared the feeling. He is clearer about the responsibility he should have as a SJTU-er. And he will be broad-minded, fully enhance himself to become a promising youth. Wang Zihao from School of Electronic, Information and Electrical Engineering said this lesson made him more than a university student, and he became an SJTU-er who has the great sense of honor and responsibility. Zhao Yue from School of Medicine was determined to treasure the stage, study hard, practice responsibility and have a splendid youth period at SJTU.
---
Translated by Tian Cong