President of Tohoku University Receives Honorary Doctorate from SJTU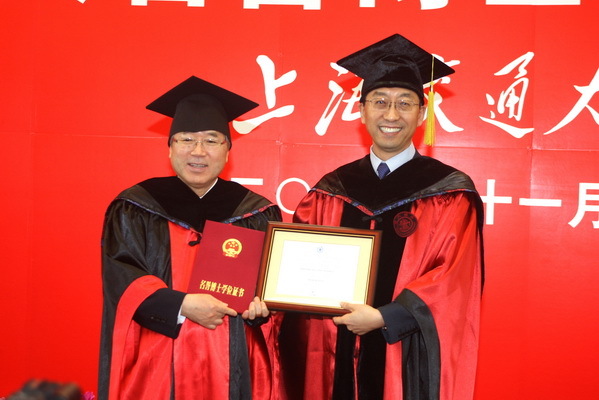 On the morning of November 3, the ceremony granting the honorary doctorate to President Akihisa Inoue of Tohoku University was held in the Information Building of the Main Library on Minhang Campus.
President Zhang Jie extended his congratulations to Prof. Akihisa Inoue. He said that Prof. Akihisa Inoue was an outstanding expert in materials science who pioneered in the important research area of "bulk metal glass", and an excellent higher educationist. Zhang Jie pointed out that Prof. Akihisa Inoue receiving the honorary doctorate from SJTU would have profound influence on strengthening the cooperation between SJTU and Tohoku University, which would enhance the Sino-Japan friendship.
Huang Zhen read out the "Notice on Permission of Granting Honorary Doctorate to Akihisa Inoue by the Academic Degree Committee of the State Council". Then the student representative read out the eulogies to Professor Akihisa Inoue.
Zhang Jie issued the certification and presented souvenir to Prof. Akihisa Inoue. Akihisa Inoue said in his speech that he was honored to receive the honorary doctorate from SJTU, an influential university with a time-honored history, and that he would keep making efforts to promote the collaborations of the two universities in scientific research and talent cultivation. After the ceremony President Inoue delivered a keynote lecture on "the development, application and outlook of bulk metal glass".
---
Translated by Wang Jie | Reviewed by Tian Cong