【People】SJTU Graduate as a 6-Year Licensed Saxophone Street Artist
Six years ago, when Hua Jun occasionally passed by Jing'an Park, he was attracted by a craftsman and his stall. "On the bustling streets of Shanghai, how could it be possible to be allowed to set up a stall quietly like this?" Having observed carefully, Hua Jun found a badge hanging on the performer that read "Shanghai Street Artist Performance Certificate". Thinking of his saxophone skills, a bold idea came into Hua's mind: Can I try it? After several rounds of review and examinations, in June 2015, he became one of the second batch of certified street performers in Shanghai.
Hua Jun graduated from Shanghai Jiao Tong University with a major in art design. Before becoming a street artist, he was engaged in people cultural work at Meilong Cultural Center. During the daytime, he is a staff dressed in formal shirts and pants; when night comes, he becomes the prince of music and plays the saxophone gracefully on the streets of Shanghai. Hua Jun said that performing on the streets of Shanghai realizes his stage dream and adds glamor to the city, as if he was playing another self in a parallel world. At the same time, his music can bring console to those sad souls, which is another form of happiness.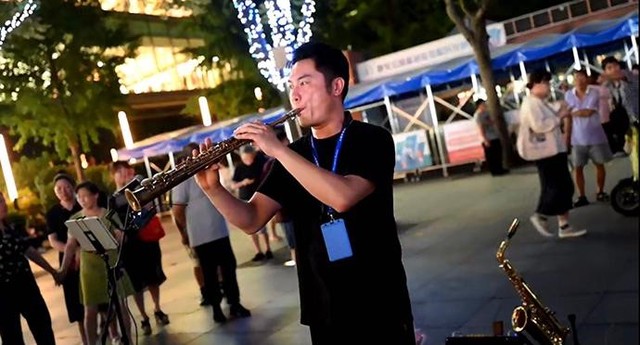 Licensed street artists are giving performances all over Shanghai and their number has expanded from 8 to more than 300 by now. Hua Jun said, "Shanghai's street performers have become a unique scenic spot, attracting more and more artists with high education background to join. This is undoubtedly a valuable asset to the city. As a SJTU graduate, I'm proud of what I'm doing. People should learn to look forward, do what you think is worthwhile and don't regret it." He also said that being a street performer is not purely for income, and the most important thing is to realize his dream and love for art with perseverance.
Translated by Fu Jing