【People】SJTU Dragon Boat Team Growing with National Pride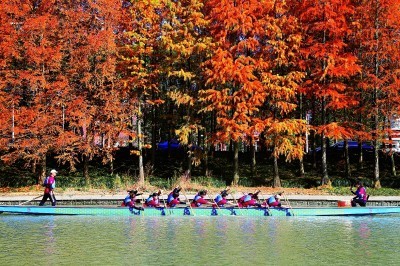 SJTU Dragon Boat Team in training. (By pic.gmw.cn)
Narrator: Jin Mengyi, the core member of SJTU Dragon Boat Team and a Ph.D. student at the School of Naval Architecture, Ocean & Civil Engineering
In my first year as a doctorate student, I joined the Dragon Boat Team of Shanghai Jiao Tong University under the recommendation of my friend. Three years have passed since then and I have grown from a new rower to an experienced member. I have witnessed the growing strength of the SJTU Dragon Boat Team, while the Dragon Boat Team has accompanied my growth and change all the way.
Before the Dragon Boat Festival this year, I participated in the 2021 China Top University Water Sports Open Tournament in Huzhou, Zhejiang Province, with other members of the Dragon Boat Team. To fully prepare for the competition, every morning we gathered at the dragon boat wharf at 6: 00 a.m. We woke up the quiet campus with roll of drums and started a new day in our neat paddling.
During the competition, tens of dragon boats raced against each other amid cheers of viewers. We went all out to complete the competition and achieved satisfactory results. We also formed deep friendship with other participating teams.
In recent years, dragon boat is gradually entering the life of many SJTU students, and dragon boat race has become an enlightening part of the campus culture. In the early June, I participated in the 2021 SJTU Student Water Games as a volunteer. I believe that practicing dragon boat can help reduce the feeling of distance and isolation among freshmen and build team cohesion since dragon boat is a group sport. It can also make young students develop a better understanding of the traditional culture and cultivate a sense of national pride in group activities.
From Miluo River to the Olympic Games, the ancient dragon boat has entered the world stage, showing a collision between and an integration of youth and history, fashion and tradition, competition and culture. I believe that the dragon boat will sail to all parts of the world, carrying together the confidence and friendship of Chinese people. We young students, as a messenger of Chinese culture, will do our part to tell the story of dragon boat in the new era and spread Chinese culture in a brilliant way.
Source: Guangming Daily
Translated by Zhou Rong