New Mechanism Proposed for Efficient Utilization of Nitrogen Resources in Plants
Recently, the research team led by Prof. Zuo Kaijing from Joint Center for Single Cell Biology, School of Agriculture and Biology, SJTU, published a research paper titled "CALMODULIN-LIKE 38 and PEP1 RECEPTOR 2 integrate nitrate and brassinosteroid signals to regulate root growth" in Plant Physiology.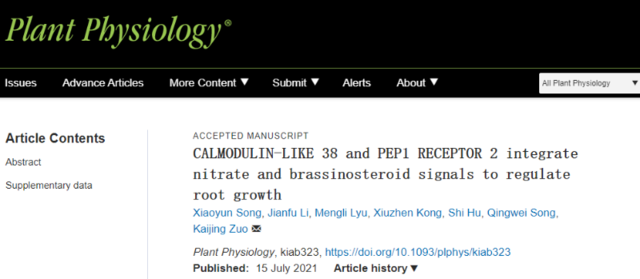 Nitrogen (N) is an important nutrition that determines the growth and development of crops. That means using more nitrogen fertilizer is a simple and effective way to increase yield. However, excessive use of nitrogen fertilizer has led to many pollution issues in recent years due to the low absorption and utilization rate of nitrogen fertilizer by crops.
The research illustrated a mechanism by which CML38 interacts with PEPR2 to integrate low-nitrate and Brassinosteroid (BR) signals for coordinating root development to prevent quick depletion of N resources in Arabidopsis.
The research finding provided theoretical basis for better understanding N signal network and effective N regulation factors, thus paving the way for advancing research on yield increasement.
Doctoral student Song Xiaoyun from SJTU is the first author, and Prof. Zuo Kaijing is the corresponding author. This research is supported by special project of transgenosis (016AA08005-003, 2019AA08009-010), biology and agriculture interdisciplinary foundation and other projects.
Author: Song Xiaoyun
Source: School of Agriculture and Biology, SJTU
Translated by Zhang Wenying