"International Arts on Campus" Launched at SJTU
Classic Performance by English National Ballet Brought the House Down on Campus
On the afternoon of May 4, English National Ballet was invited to perform at SJTU as part of the launching ceremony of "International Arts on Campus". The classic repertoires of English National Ballet Trois Gnossiennes and Apolo Nureyev were put on stage as well as the new choreography that is to be performed in London Arts Festival. English National Ballet is one of the world's greatest ballet companies, which was founded by Dame Alicia Markova and Sir Anton Dolin and once ranked the first among the six major ballet companies in the world.
Dancers from English National Ballet presented a fantastic and romantic performance which drew forth enthusiastic applause of all audience, marking the start of the annual event "International Arts on Campus". Secretary-General Xie Yilong of Shanghai Education, and Public Health Working Committee of CPC, Vice President Xu Fei of SJTU, Art Director Liu Wenguo of the Center for China Shanghai International Arts Festival came to enjoy the show together with SJTU faculty and students.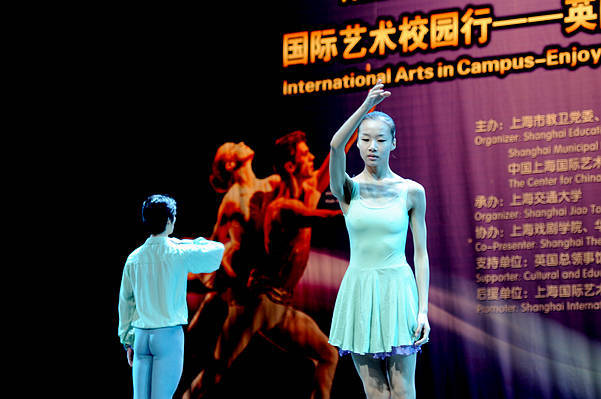 Four students from Normal University of East China and ballet dancers from Shanghai Theatre Academy also brought a wonderful show to the audience. Cultures with different connotations are performed in the same form and share the spotlight, which is dazzling and memorable.
Gao Shengxuan from Antai College of SJTU could not help praising the amazing afternoon in Jingjing Auditorium, "The stage of the auditorium seems to turn into a wonderland because of the dances of these ballet fairies. I am longing to be one of them so that I can dance to the music too. Their dancing is so elegant and expressive that we can feel what they want to reveal through their performance".
---
Translated by Hou Yulu | Reviewed by Tian Cong