"Humanity Development Foundation" by '87-class on 20th Anniversary of Graduation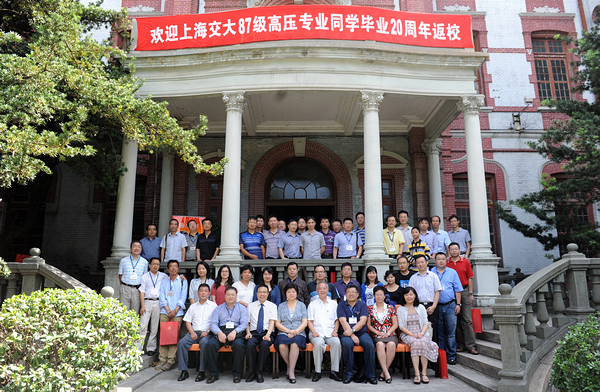 "When one drinks water, one must not forget where it comes from". The 20th graduation anniversary of 1987-class majoring in high voltage of Department of Electrical Engineering was held at SJTU in this golden autumn. 45 out of the over sixty 87'-class alumni came back to attend the ceremony, which outnumbered all the past gatherings. Those who were absent for some reason also sent back their sincere wishes and greetings by videos and calls.
To express the gratitude to the teachers and the Alma Mater, class of 1987 majoring in high voltage donated 6 million yuan to set up the "humanity development foundation by Class 41371/41372 of 1987 majoring in high voltage". The foundation will be used to hold high-quality lectures in humanities and social sciences as well as the construction and development of quality-oriented education and general education.
Chairperson of SJTU Council, Ma Dexiu talked with the alumni cordially. She said that alumni are the most valuable treasure for the Alma Mater, the development of the university depends on the support and understanding from its alumni. After their success in career, the SJTU graduates still remember their Alma Mater and maintain the support and attention for its development to the best of their ability, which manifests the spirit of "being grateful to the favors received", reflects SJTU culture, and makes SJTU proud. Ma Dexiu also briefly introduced the recent development of SJTU to the alumni.
Leaders from SJTU Education Development Foundation, Office of Undergraduate Education, Office of Students' Affairs, SEIEE and Department of Electrical Engineering attended the ceremony.
---
Translated by Wang Jie | Reviewed by Tian Cong