Classical Drama "Stay Up Late on New Year's Eve" Performed in Jing Jing Auditorium
Taiwan classical modern drama "Stay Up Late on New Year's Eve" was on in Jing Jing Auditorium on the evening of May 17 as one of the series performance for 2012 SJTU International Collegiate Culture and Arts Festival. Artists from Shanghai Drama Art Center performed wholeheartedly a touching family story for students and teachers present. All seats were occupied in the auditorium and all the audience were involved in the family's warmth and affected by the precious kinship and family love.
Against the background of the Chinese New Year's Eve dinner, the modern drama tells a story about the conflicts and misunderstandings, emotional and affectional entanglements among three generations of a family.
The famous actress Wang Hua plays the part of a grandma who has Alzheimer's Disease and feels lonely and forlorn because her offspring are far away from her perennially; the young actress Ai Jiani plays the granddaughter Pingping who brings home her American boyfriend and wants to tell her family of her premarital pregnancy and intention to terminate her study abroad; Wu Jingwei plays the Mother A Ling who plans to sell their ancestral house to afford Pingping's tuition fees; Zhao Lei acted as A Di, the younger brother of A Ling, who comes back home after 13 years and yells out from the bottom of the heart, "Mom, I am back!" Grandma occasionally has a broad smile or a rain of tears. She loses control during the "replay" in her mind and regains consciousness during the "tape rewinding" in her head. With appropriate flexibility, the whole drama is really touching and heart-stirring.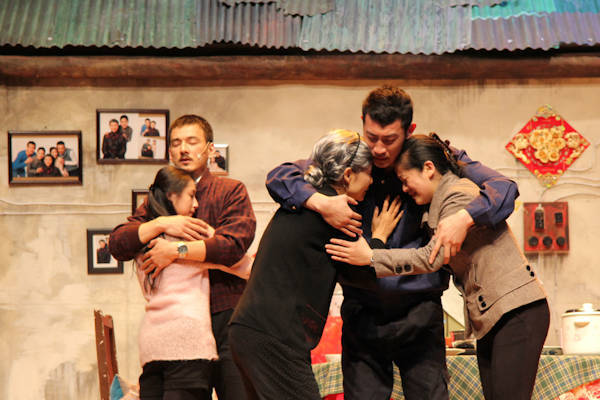 On the stage, the family sat together, chatted about everything and stayed up all night, which led the audience to those happy family reunion days. The playwright's ingenious idea and the superb acting of the actors and actresses touched the heart of the audience. And together with the twists and turns of the plot, all the people present were immersed in the thought of warm family love and priceless kinship. In the end of the drama, the happy ending pushed the atmosphere to its climax and the Jing Jing Auditorium was filled with cheers and applauses.
The modern drama "Stay Up Late on New Year's Eve", a ten-year-long classical work of Taiwanese Director Li Zongxi, has been on stage for nearly 400 times. The drama is close to everyday life and the plot is filled with sincere affection, which deeply touches every audience's heart. "This is my story," said Li Zongxi, "because I live in an imperfect family, I really thirst for family warmth and thus want to make up for the regret and deficiency in my heart through the creation of dramas."
---
Translated by Li Jing | Reviewed by Tian Cong