【China Daily】World-first Split Liver Transplant Helps Save 2-yr-old Twins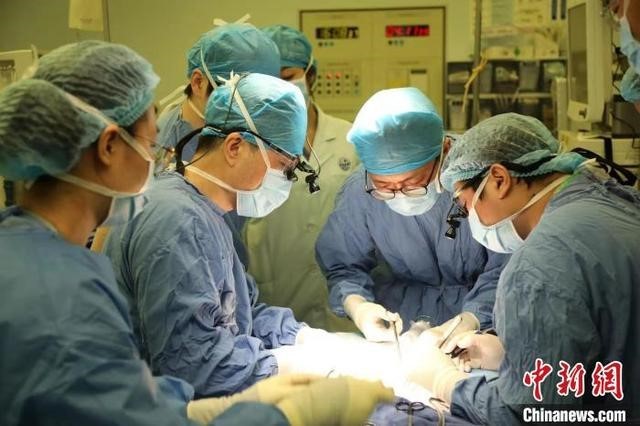 The split liver transplant is performed on Dec 18 by a medical team from Renji Hospital affiliated to Shanghai Jiao Tong University School of Medicine. [Photo/Chinanews.com]
A Shanghai hospital has successfully performed a liver transplantation for a pair of twins suffering from glycogen storage disease by splitting the liver of a 9-year-old donor, the first such instance in the world, Science and Technology Daily reported.
The split liver transplant was performed on Dec 18 by a medical team from Renji Hospital affiliated to Shanghai Jiao Tong University School of Medicine. The operation included three stages: dividing the donor's liver into two pieces, and transplanting them into the twins separately, all of which were performed simultaneously.
The 2-year-old twin boys were raised by their grandparents from a village after their parents left them not long after birth. On New Year's Eve in 2019, the twins suddenly developed fevers in succession and became very weak. They were later sent to the hospital and diagnosed with GSD, a rare genetic disorder characterized by a deficiency in the liver's glycogen phosphorylase enzyme. A liver transplant was the only way to save their lives.
Fortunately, after a two-month wait, a family donated the organs of their 9-year-old son after his death and his liver was found to match the transplant requirements for the twins. At the same time, medical workers from the hospital helped the twins raise a total of 600,000 yuan ($91,600) from various charities to cover the medical fees.
The operation took six hours and went smoothly. With precise calculations in advance, 465 grams of the donated liver was transplanted into the older twin, and the remaining 335 grams was given to the younger one.
Now the twins have had their ventilators removed and are in recovery.
Source: China Daily