【China Daily】Psychologists unite to help front-line medical workers
A psychological counselor in Haikou, Hainan province, answers a phone call about the novel coronavirus outbreak on Saturday. [Photo/Xinhua]
Internet plays key role in providing assistance
Lu Lin, a psychological counselor based in Wuhan, Hubei province, the epicenter of the novel coronavirus outbreak, was deeply moved by a phone call late last month from a local nurse.
The caller sobbed over the psychological assistance hotline, which Lu and her colleagues had volunteered to operate.
She said that the previous day, three patients had died in the wards she was responsible for.
She added that every day, she had to don protective clothing, which restricts her movements, for at least 10 hours in quarantine wards isolated from the outside world, where sometimes bodies have yet to be removed.
Even worse, some of her colleagues have become infected by the virus.
Ji Minjiao, a nurse from Renji Hospital in Shanghai who has been sent to Wuhan, examines a wall at Wuhan City No 3 Hospital, where medics write good wishes. [Photo/China Daily]
Psychologists said people from different communities could be affected in view of the rising number of cases nationwide since the end of last month. They may also experience severe emotional distress, trauma and acute mental problems.
Those particularly at risk include front-line medical workers facing tremendous physical and mental stress; frightened patients, who may also be grieving; those suspected of becoming infected who have been placed under quarantine and who may face public criticism; and people who stay in isolation during the observation period who feel lonely and vulnerable.
Many Chinese psychologists at home and overseas are aware of these difficult situations and are providing help, thanks to the internet. They are paying special attention to frontline medical workers racing against time to fight disease and death.
In addition to medical workers based in Wuhan, more than 11,900 doctors and nurses from across the country had arrived in the city and neighboring areas by Feb 9 to provide support.
Liu Hongye, a psychiatrist from Tongji Hospital of Tongji University in Shanghai, said tired doctors and nurses are working longer hours without any breaks for refreshment. Some of them might feel trapped and helpless when there is a shortage of medical supplies and protective clothing.
"They have changed into such clothing and are displaying the utmost professionalism in trying their best to save lives. But, in the final analysis, they're just another group of ordinary people like you and me," Liu said.
Zhang Wenhong, director of the Infectious Disease Department at Shanghai Huashan Hospital, who heads the team of experts battling to contain the spread of the novel coronavirus in the city, said psychological intervention for frontline medical workers and patients under quarantine and treatment must begin immediately.
On Jan 27, the National Health Commission's disease control bureau issued a guideline, requiring provinces and cities to provide counseling and intervention for those affected by the outbreak.
Lin Zi, deputy chairwoman of the Shanghai Psychological Counseling Association, said international experience showed that setting up a system to tackle a psychological crisis, combining the efforts of public health authorities and professional therapists, is vital.
The combined efforts of both government authorities and the public are also highly important, according to Lin, who has formed a team of about 30 professionals, including 13 based overseas, to provide online support to those who need psychological assistance.
Even before the NHC's guideline was issued, many psychologists had joined efforts to provide help for free. By Jan 25, Lunar New Year's Day, about 400 of them had begun to provide assistance via phone hotlines, WeChat and other online groups.
Yu Lingna, a psychologist living in Japan, recruited more than 70 of her peers to work online for WeChat groups to provide support for some 300 people requesting help, mainly doctors, nurses and patients confirmed with the virus in cities locked down amid the outbreak.
"Thanks to the internet, we can provide round-the-clock help and we don't need to go to a particular location," Yu said.
A two-hour real-time question-and-answer session with leading counselors will be offered twice a week in the online chat groups. Additional volunteers will answer queries when these sessions are not being staged.
"We hope to assist those seeking help for emotional and acute psychological symptoms, promote mutual links and support between them, give psychological advice and provide support when they feel overwhelmed by the situation," Yu said.
Medics from Shanghai set up a psychological counseling room at Wuhan City No 3 Hospital. [Photo/China Daily]
Lu, the Wuhan counselor, said that after hearing from a nurse that there was a shortage of protective clothing at the hospital where she works, she told her that it would be put in contact with volunteers organizing donations of protective medical supplies.
"This is a way of providing psychological assistance, letting her know that she will get help and support in various ways," Lu said.
Experts said that commonly recognized processes involved in such counseling include stabilizing a person, acknowledging a crisis, facilitating understanding, encouraging effective coping measures, and recovery or referral procedures.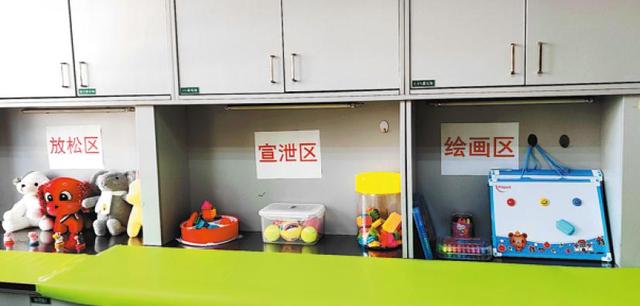 Medics from Shanghai set up a psychological counseling room at Wuhan City No 3 Hospital. [Photo/China Daily]
On-site counseling
Chen Erzhen, vice-president of Shanghai Ruijin Hospital and head of a medical team sent from Shanghai to support Hubei, set up a psychological counseling room at Wuhan City No 3 Hospital, where the team is working. Two of the team members are psychiatrists, who are providing counseling to local patients, their families and frontline medical workers.
Before the team, comprising 148 doctors and nurses, left Shanghai on Jan 28, it attended a training session, which dealt with psychological health management.
Outside the counseling room, there is a wall where medics can write good wishes. Therapists are also sharing music and video clips online, which helps relieve stress.
Ge Hui, a volunteer manning the hotline set up by psychologist Lin Zi, answers a call seeking counseling. [Photo/China Daily]
Chen Liangliang, a therapist responsible for the counseling room, said several doctors and nurses had sought help. They said they were tired and worried by patients either dying or whose conditions were worsening. They were also anxious about insufficient protection and of becoming infected with the virus and passing it on to family members.
"In some individual cases, people said they were experiencing exhaustion and difficulty in dealing with interpersonal relationships," said Chen, a chief doctor from Changning District Mental Health Center in Shanghai.
Counselors listened to their accounts and empathized with those seeking help.
"We tried to mentally rejuvenate our comrades-in-arms," Chen said. "We emphasized to them the importance and value of frontline medical work, discussed supportive psychotherapy and tried to help them gradually regain their confidence."
Psychologists suggested that medical professionals "switch off" completely when they are not working and enjoy activities such as listening to music, reading and taking part in sports, as they may face a long battle to contain the outbreak.
Feng Qian, a psychologist, provides counseling to medics. [Photo/China Daily]
However, many doctors and nurses on the frontline are concealing mental health issues and are giving priority to saving patients' lives.
"I heard from some medical workers who said they don't have the time or are not in the mood to accept counseling. They don't want their work rhythm to be disrupted for the time being," Yu said.