【China Daily】China and US experts discuss health policies at video forum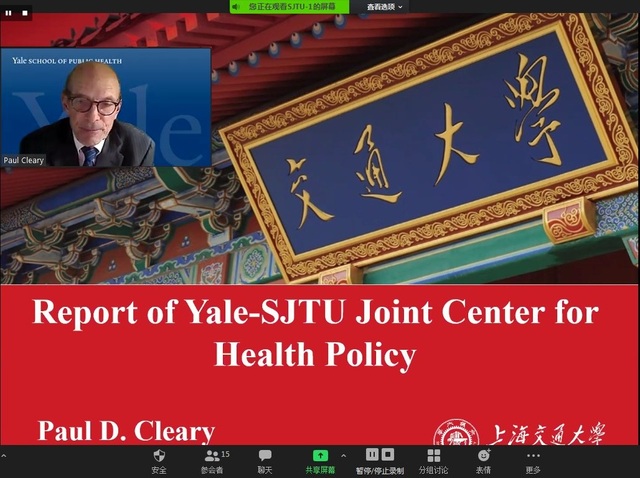 Paul Cleary, a former dean of the Yale School of Public Health, speaks at a video forum co-organized by Shanghai Jiao Tong University and Yale University on May 24, 2020. [Photo provided to chinadaily.com.cn]
Experts from China and the United States discussed global public health policy research issues at a video forum co-organized by Shanghai Jiao Tong University and Yale University on Sunday.
The forum focused on how the two countries can coordinate policies and initiatives on public health emergencies amid the COVID-19 pandemic, jointly explore public health management systems that can be applied to different countries, and develop feasible research directions and bilateral cooperative projects in the future.
Xu Xuemin, vice-chancellor at Shanghai Jiao Tong University, called for scholars at the two universities to strengthen exchanges and work together to build a global public health management system.
Zhao Dandan, deputy director of the Shanghai Municipal Health Commission, shared the key points in China's fight against the pandemic: strong capability in social organization and mobilization, a high level of self-discipline among the public, scientific and precise measures used by all levels of government, and the dedication of medical and health care workers.
Yin Shankai, director of Shanghai Sixth People's Hospital affiliated to Shanghai Jiao Tong University, reiterated that there are adequate medical resources and efficient emergency mechanisms in place within the country.
Wang Hui, dean of the school of public health at the university, said that information technology and big data should play a bigger role during the fight against the pandemic.
In order to prevent major public health emergencies in the future, Paul Cleary, a former dean of the Yale School of Public Health, said that greater information exchange between countries is imperative.