【China Daily】Asia Seeks the Way Ahead
Is the region innovative enough to meet challenges? Global leaders look to Boao for answers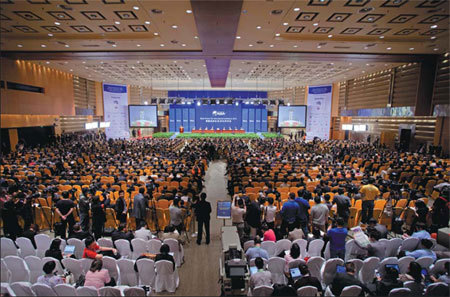 Aday before the Boao Forum for Asia (BFA) annual conference kicks off on April 6 in the eponymous former fishing village in China's Hainan province, now widely known due to the event, the Nobel Prize winning economist Edmund Phelps puts forward a "provocative" question.Phelps asks: What do Asian business leaders believe to be the main obstacles to a boost of indigenous innovation in Asia? Do they lie in the government? Finance? Where?
There are mixed reactions to it.
"Prof Phelps was being provocative," says Massimo Dominici, chairman, International Society for Cellular Therapy, a Vancouver-headquartered global association aiming to deliver innovative cellular therapies. "It's a relevant opportunity to generate questions and then provide answers."
"There have been dramatic global biotech public offerings from the Asia-Pacific in the last five years. Asia is the place where technology is blooming. Major countries in Asia are investing money in life sciences. In countries like India, China, Malaysia and Indonesia, a lot of companies are involved in the production of stem cell products."
It's not innovation that Asia lacks but regulation.
Laurent Malet, director at Egis, the French engineering group involved in infrastructure, transport systems and environment, echoes Dominici.
"The education in Asia is as good as anywhere in the world," Malet says from his Paris office. "If people want to be creative, they have the educational basis to do so. There are tremendous innovation centers in Asia.
"What differentiates Asia from the West is that in occidental countries people are very pessimistic about the future. In Asia people are very optimistic and that's an innovation booster."
Not lack of innovation but the ability to adapt will be the critical issue for the region, feels Malet, who is speaking on the quality of urbanization at the conference.
"Infrastructure is going to be a critical issue. The adaptability of Asian cities will determine how they face the challenge. It is very important that they adapt very fast - from infrastructure to public transportation and energy," Malet says.
However, Malet remains optimistic.
"Whatever we have, we want more. That's a very positive driver for all of us," he adds. "Last year, the world economy grew more than 3 percent. That is sufficient to be optimistic."
Phelps' view is partially endorsed by Zhu Ning, deputy director at Shanghai Advanced Institute of Finance under Shanghai Jiaotong University.
"I tend to largely agree that China is lagging behind in terms of research and innovation (which) are a major driving force for economic growth in developed economies," the professor of finance says from Beijing. "There is a lot for the Chinese government and companies to do to boost Chinese capability (for) innovation."
However, Zhu begs to differ on whether that will lead to a crisis. Lack of innovation may be a bottleneck to growth but not necessarily the main reason for an economic crisis. The crisis would come if China fails to balance quality with economic growth.
Zhu thinks further reform in the financial sector can solve many of the challenges China faces in the attempt to move from an export-driven economic growth model to a domestic-driven one, from an investment-driven one to a consumption-sustained one.
"China should avoid or gradually stay away from the infrastructure-driven, investment-driven growth model to a more sustainable growth model that will guarantee individual satisfaction, environmental sustainability and quality of social welfare."
John Hearn, chief executive, the Worldwide Universities Network, has traveled from Sydney to Hainan, expecting to meet leaders from governments, businesses and academia around the world and learn from a range of international opinions. The physiology professor is seeking solutions to global challenges like food security, economic development and knowledge transfer.
"The Boao forum is becoming a forum for Asia and the world and has an Asian perspective for the world," adds Hearn who has worked in China, India and Geneva. "I am excited to see how that is different from the other fora, like the Organisation for Economic Co-operation and Development in Paris and the World Bank Forum in Washington.
"I would like to see what is different in the approaches."
---
source: China Daily