Alumnus Zeng Yuqun Awarded 2020 Top 10 Economic Personages of China
Recently, SJTU alumnus Zeng Yuqun is named "2020 Top 10 Economic Figures of China", a list co-produced by Yicai, Sina Finance and Channel Wu.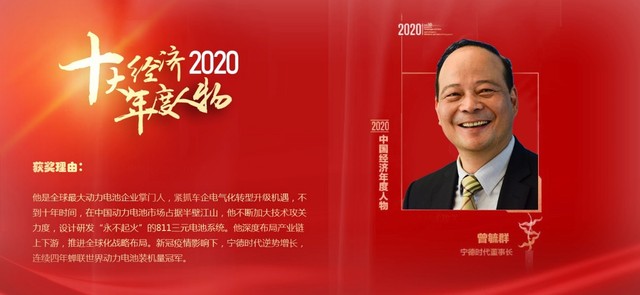 Zeng Yuqun, a 1989 undergraduate alumnus from SJTU School of Naval Architecture, Ocean & Civil Engineering, is now the chairman of Contemporary Amperex Technology Co. Limited (CATL). In 2008, Zeng founded CATL, a battery manufacturer and technology company that specializes in the manufacturing of lithium-ion batteries for electric vehicles and energy storage systems, as well as battery management systems. He led the group to tackle technological difficulties and seized the opportunity in electrification transformation of car companies. The company continuously improved techniques and established partnerships with a number of internationally renowned consumer electronics companies, including Apple and Samsung. For years, their products have been securing the largest market share in the industry globally. In 2020, CATL signed a cooperative agreement with SJTU on building joint research centers.
"Top 10 Economic Figures of China" is considered China's Oscar Awards in economics. In the last five years, the selectees included a number of prestigious entrepreneurs, ranging from experienced industry leaders and tech giants, to young entrepreneurs from emerging industries. Familiar names such as Dong Mingzhu, Zong Qinghou, Lei Jun, Zhou Hongyi, Liang Jianzhang, Yu Liang, Li Ning, Cheng Wei, Chen Dongsheng, Zhang Wenzhong, Liu Qingfeng, Liu Yonghao, etc. have all won the award.
Translated by Han Yueyue
Proofread by Xiao Yangning, Fu Yuhe