Professor Xia Weiliang's Team Published Papers in Oncogene and Theranostics
Recently, Professor Xia Weiliang's research team from School of Biomedical Engineering and Med-X Research Center, SJTU published a research paper titled "Enhanced autocrine FGF19/FGFR4 signaling drives the progression of lung squamous cell carcinoma, which responds to mTOR inhibitor AZD2104" in Oncogene (IF=6.634) online. Another research paper from this team titled "βKlotho is identified as a target for theranostics in non-small cell lung cancer" was published in Theranostics (IF=8.063) online. Doctoral student Li Fan from School of Biomedical Engineering is the first author of both research papers.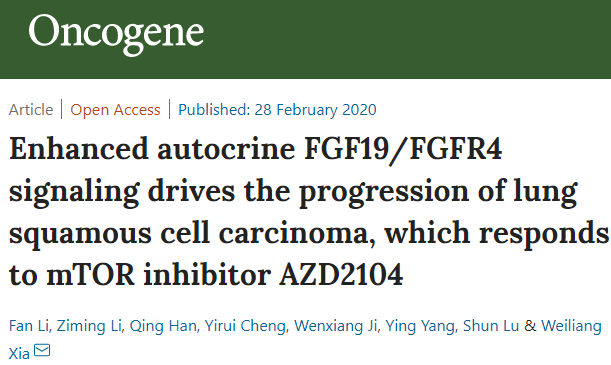 The above-mentioned research received support from National Natural Science Foundation of China and Shanghai Jiao Tong University Medical-Engineering Research Fund for Key Programs and General Programs.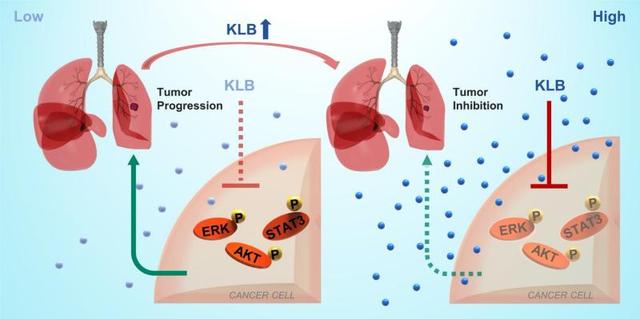 Abstract:
Lung cancer occurrence and associated mortality ranks top in all countries. Despite the rapid development of targeted and immune therapies, many patients experience relapse within a few years. It is urgent to uncover the mechanisms that drive lung cancer progression and identify novel molecular targets. Our group has previously identified FGF19 as a prognostic marker and potential driver gene of lung squamous cell carcinomas (LSQ) in Chinese smoking patients. However, the underlying mechanism of how FGF19 promotes the progression of LSQ remains unclear. In this study, we characterized and confirmed that FGF19 serves as an oncogenic driver in LSQ development and progression, and reported that the amplification and high expression of FGF19 in LSQ was significantly associated with poor overall and progression-free survival. A higher serum level of FGF19 was found in lung cancer patients, which could also serve as a novel diagnostic index to screen lung cancer. Overproduction of FGF19 in LSQ cells markedly promoted cell growth, progression and metastasis, while downregulating FGF19 effectively inhibited LSQ progression in vitro and in vivo. Moreover, downregulating the receptor FGFR4 was also effective to suppress the growth and migration of LSQ cells. Since FGF19 could be induced by smoking or endoplasmic reticulum stress, to tackle the more malignant FGF19-overproducing LSQ, we reported for the first time that inhibiting mTOR pathway by using AZD2014 was effective and feasible. These findings have offered a new strategy by using anti-FGF19/FGFR4 therapy or mTOR-based therapy in FGF19-driven LSQ.
Link:
1. https://www.nature.com/articles/s41388-020-1227-2
2. https://www.thno.org/v09p7474.htm