Physical Review Letters Published Editors' Suggestion on SJTU Research Projects
Recently, a research team led by Professor Xiang Dao from School of Physics and Astronomy, SJTU, and Zhang Jie, academician of CAS, has been cooperating with their research fellows. An article on their work (L. Zhao et al., Phys. Rev. Lett. 124, 054802 (2020)) appeared as Editors' Suggestion in Physical Review Letters. As one of the "Featured in Physics" articles, the one titled "Making Electron Pulses Shorter and Steadier" made a special introduction to the team's research and findings.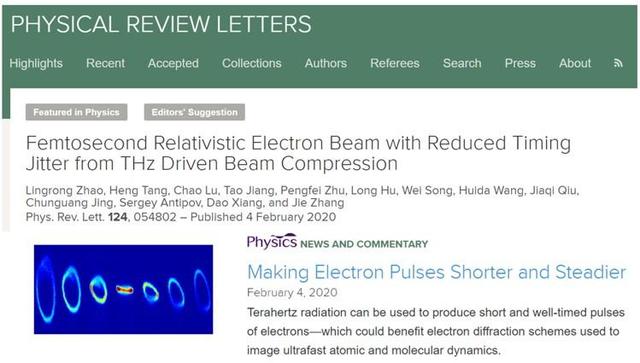 Their research is mainly sponsored by Shanghai Science and Technology Development Funds (Grant No. 18JC1410700),National Major Scientific Instruments and Equipments Development Project of National Natural Science Foundation of China (Grant No. 11327902), Innovative Research Group Project of National Natural Science Foundation of China (Grant No. 11721091), The National Science Fund for Distinguished Young Scholars (Grant No. 11925505) and Major State Basic Research Development Program 973 (Grant No. 2015CB859700). Post-doctoral researcher Zhao Linrong is the first author.
Abstract
We propose and demonstrate a method to reduce the pulse width and timing jitter of a relativistic electron beam through THz driven beam compression. In this method the longitudinal phase space of a relativistic electron beam is manipulated by a linearly polarized THz pulse copropagating in a dielectric tube such that the bunch tail has a higher velocity than the bunch head, which allows simultaneous reduction of both pulse width and timing jitter after passing through a drift. In this experiment, the beam is compressed by more than a factor of 4 from 130 fs to 28 fs with the arrival time jitter also reduced from 97 fs to 36 fs, opening up new opportunities in using pulsed electron beams for studies of ultrafast dynamics. This technique provides an effective way to manipulate beam longitudinal phase space with a THz pulse and may have a strong impact in accelerator and ultrafast science facilities that require femtosecond electron beams with tight synchronization to external lasers.
Article Link: https://journals.aps.org/prl/abstract/10.1103/PhysRevLett.124.054802
Translated by Zhang Wenying Reviewed by Wang Bingyu