Prof. Tang Kexuan's Team published Review Article on Trends in Plant Science
On February 11, a review paper titled "Parallel Transcriptional Regulation of Artemisinin and Flavonoid Biosynthesis" was published on Trends in Plant Science, a top international journal in the field of botany, subordinate to Cell Press. The corresponding author is Professor Tang Kexuan from School of Agriculture & Biology, SJTU.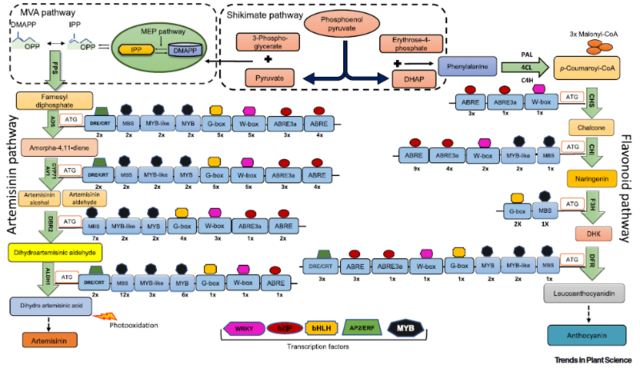 Professor Tang Kexuan's team has published over 60 SCI research papers on Science Advances, Molecular Plant, New Phytologist, Journal of Experimental Botany, to name but a few.
The research was supported by National Key Research & Development Plan of China, Bill & Melinda Gates Foundation, National Natural Science Foundation of China and National GMO Project. Professor Tang Kexuan from School of Agriculture & Biology, SJTU, is the corresponding author, and foreign post-doctoral researcher Danial Hassani is the first author.
Highlights
It is increasingly recognized that different TFs act conjointly to regulate the production of plant metabolites. However, their dual functionality in regulating distinct pathways of synthesis has not been well studied.
The identification of cis-regulatory elements within the promoter regions of genes encoding different pathway enzymes enables the identification of TF families that regulate their expression.
Parallel regulation of the enzyme-coding genes for distinct pathways can simplify overexpression strategies.
This provides an excellent starting point to unravel how individual TFs act in a coordinated manner to simultaneously regulate different pathways of specialized metabolism.
Paper Link: https://www.sciencedirect.com/science/article/abs/pii/S1360138520300157
Translated by Li Wenqi Reviewed by Wang Bingyu