SJTU Team Discovered New Mechanism in Root Hair Development Regulation
Recently, Xue Hongwei's research team from Shanghai Jiao Tong University and the Institute of Plant Physiology and Ecology, Chinese Academy of Sciences and Zheng Wenming's research team from Henan Agricultural University have made new progress in the molecular mechanism of low-phosphorus stress regulating root hair development. Their research result"Phospholipase D-derived phosphatidic acid promotes root hair development under phosphorus deficiency by suppressing vacuolar degradation of PIN2" was published in the internationally renowned journal New Phytologist.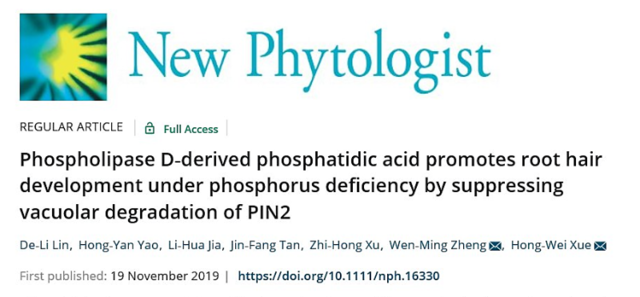 The paper reveals that low-phosphorus stress regulates the mechanism of root hair development by influencing polar auxin transport and auxin accumulation, which provides new clues for studies on how crops respond to low-phosphorus stress and improving phosphorus absorption efficiency.
Lin Deli, a doctoral candidate from Henan Agricultural University, and Yao Hongyan, an associate researcher at the Institute of Plant Physiology and Ecology, are co-first authors. This research is funded by the National Natural Science Foundation of China and Key National R & D Foundation.
Abstract
Root hair development is crucial for phosphate absorption, but how phosphorus deficiency affects root hair initiation and elongation remains unclear.
We here demonstrated the roles of auxin efflux carrier PIN2 and phospholipase D (PLD)‐derived phosphatidic acid (PA), a key signaling molecule, in promoting root hair development in Arabidopsis thaliana under low‐phosphate (LP) condition.
Root hair elongation under LP condition was greatly suppressed in pin2 mutant or under treatment with a PLDζ2‐specific inhibitor, revealing that PIN2 and polar auxin transport, and PLDζ2‐PA are crucial in LP responses. PIN2 was accumulated and degraded in the vacuole under normal‐phosphate (NP) condition, whereas its vacuolar accumulation was suppressed under LP or NP plus PA conditions. Vacuolar accumulation of PIN2 was increased in pldζ2 mutants under LP condition. Increased or decreased PIN2 vacuolar accumulation is not observed in sorting nexin1 (snx1) mutant, indicating that vacuolar accumulation of PIN2 is mediated by SNX1 and relevant trafficking process. PA binds to SNX1 and promotes its accumulation at the plasma membrane, especially under LP condition, hence promotes root hair development by suppressing the vacuolar degradation of PIN2.
We uncovered a link between PLD‐derived PA and SNX1‐dependent vacuolar degradation of PIN2 in regulating root hair development under phosphorus deficiency.
Paper Link::https://nph.onlinelibrary.wiley.com/doi/abs/10.1111/nph.16330
Translated by Chen Qianqian Reviewed by Wang Bingyu