P-gerts Developed by Ye Jian's Team can be used for High-Speed Bioimaging
On August 29, 2019, Ye Jian's team from the School of Biomedical Engineering, Shanghai Jiao Tong University, published a paper entitled "Ultrabright gap-enhanced Raman tags for high-speed bioimaging" at Nature Communications. The study provides new opportunities to overcome the current bottleneck of SERS bioimaging and to achieve ultra-fast bioimaging, ultra-sensitive biosensing.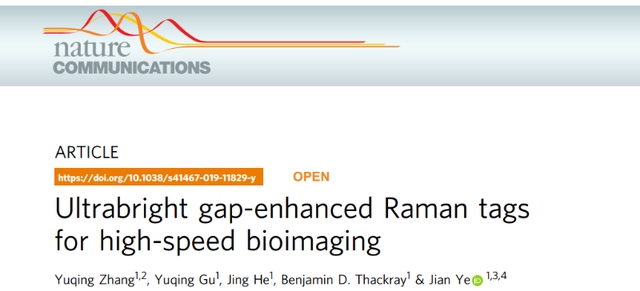 The research is completed by Ye Jian's research group. Dr. Zhang Yuqing is the first author and Professor Ye Jian was the corresponding author. The research work is supported by the National Natural Science Foundation of China, Shanghai Municipal Education Commission Gaofeng Clinical Medicine Grant Support, Shanghai Jiao Tong University Medical-Engineering Cross Fund, and the "Guangci Professor" Program of Ruijin Hospital affiliated to Shanghai Jiao Tong University School of Medicine.
Abstract
Surface-enhanced Raman spectroscopy (SERS) is advantageous over fluorescence for bioimaging due to ultra-narrow linewidth of the fingerprint spectrum and weak photo-bleaching effect. However, the existing SERS imaging speed lags far behind practical needs, mainly limited by Raman signals of SERS nanoprobes. In this work, we report ultrabright gap-enhanced Raman tags (gerts) with strong electromagnetic hot spots from interior sub-nanometer gaps and external petal-like shell structures, larger immobilization surface area, and Raman cross section of reporter molecules. These gerts reach a Raman enhancement factor beyond 5 × 109 and a detection sensitivity down to a single-nanoparticle level. We use a 370 μw laser to realize high-resolution cell imaging within 6 s and high-contrast (a signal-to-background ratio of 80) wide-area (3.2 × 2.8 cm2) sentinel lymph node imaging within 52 s. These nanoprobes offer a potential solution to overcome the current bottleneck in the field of SERS-based bioimaging.
Link of the paper:
Https://www.nature.com/articles/s41467-019-11829-y