Zhang Hepeng's Team Discovered Disordered Hyperuniform State in Active Matter
Recently, the research team led by Zhang Hepeng from Institute of Natural Science and School of Physics and Astronomy, SJTU put forward a theoretical framework based on the discovery that active yellow algae could form a disordered hyperuniform state spontaneously. Related research findings, titled "Circular swimming motility and disordered hyperuniform state in an algae system", were published on May 4th on the website of Proceedings of the National Academy of Sciences.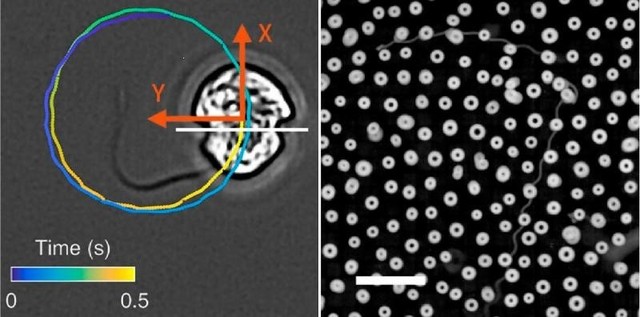 Researchers found that the long-range nature of repulsive interactions suppresses density fluctuations and generates disordered hyperuniform states under a wide range of density conditions. At the same time, they established a theoretical model based on the effectiveness of long-range nature of repulsive interactions and random cell motion for quantitatively reproducing disordered hyperuniform states. The close connection between the research and theoretical ground has suggested that active matter could use hydrodynamic flow for self-assembly, thus providing a new method for developing a cutting-edge disordered hyperuniform material.
Doctoral student Huang Mingji is the first author; Prof. Zhang Hepeng is the corresponding author. Doctoral student Yang Siyuan, and master student Hu Wensi and Prof. Liu Quanxing from East China Normal University have also contributed to this project. This research was sponsored by Natural Science Foundation and funds from Ministry of Education of the PRC, Science and Technology Commission of Shanghai Municipality, and Shanghai Municipal Education Commission.
Author: Zhang Hepeng
Source: Institute of Natural Science, SJTU
Translated by Zhang Wenying
Proofread by Xiao Yangning, Fu Yuhe
ABSTRACT:
Active matter comprises individually driven units that convert locally stored energy into mechanical motion. Interactions between driven units lead to a variety of nonequilibrium collective phenomena in active matter. One of such phenomena is anomalously large density fluctuations, which have been observed in both experiments and theories. Here we show that, on the contrary, density fluctuations in active matter can also be greatly suppressed. Our experiments are carried out with marine algae (Effrenium voratum), which swim in circles at the air-liquid interfaces with two different eukaryotic flagella. Cell swimming generates fluid flow that leads to effective repulsions between cells in the far field. The long-range nature of such repulsive interactions suppresses density fluctuations and generates disordered hyperuniform states under a wide range of density conditions. Emergence of hyperuniformity and associated scaling exponent are quantitatively reproduced in a numerical model whose main ingredients are effective hydrodynamic interactions and uncorrelated random cell motion. Our results demonstrate the existence of disordered hyperuniform states in active matter and suggest the possibility of using hydrodynamic flow for self-assembly in active matter.