The Lancet Published RCT Study Evidencing SJTU-Developed QFR Technologies
On November 4, 2021, The Lancet (IF=79.3), a top international medical journal, published the results of the angiographic quantitative flow ratio-guided coronary intervention (FAVOR III China) jointly led by Prof. Xu Bo and Prof. Qiao Shubin of Fuwai Hospital, Chinese Academy of Medical Sciences. The study evidenced that QFR-guided cardiac interventional procedures, an original technology by SJTU Prof. Tu Shengxian's group in academician Chen Yazhu's research team, can significantly improve patient prognosis and reduce patient burden with reasonable control of medical expenditure.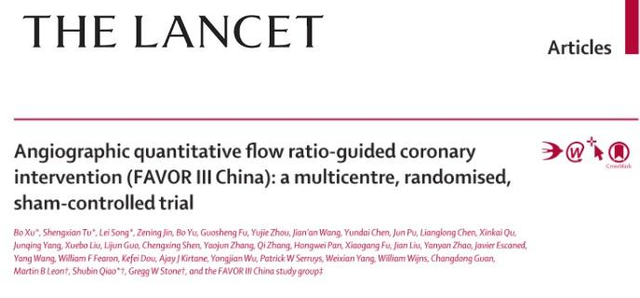 This is The Lancet's first randomized controlled trial (RCT) in cardiovascular interventions using Chinese technology and completed in local China. This research innovatively pioneered evidence-based medicine for the clinical application of computational coronary physiology technology. It also marked the recognition on China's original new cardiovascular treatment technology and high-quality clinical research by the international academia, showcasing China's ability to contribute global evidence and solve world problems with Chinese approaches.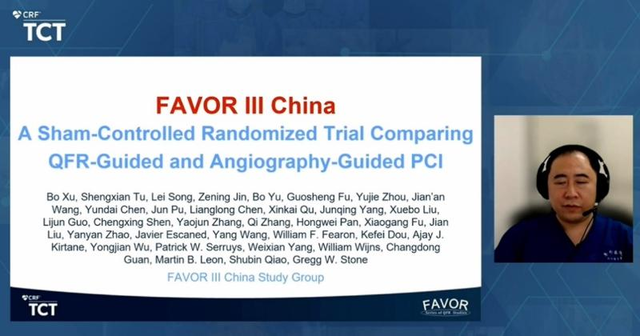 QFR is a series of original technologies invented by Prof. Tu Shengxian's research group and undergone clinical translation through the industry-university-research cooperation with Pulse Medical Imaging Technology. QFR technologies have been evaluated as innovative medical devices by the National Medical Products Administration for several times and have been applied in more than 500 medical institutions in more than 20 countries worldwide. QFR has been highly recognized by international experts in cardiovascular interventional therapy. Since 2019, QFR technologies has been included into the official training textbooks for interventional physicians by the European Society of Cardiology. In 2018 and 2020, it was written into the Japanese expert consensus for acute myocardial infarction intervention and quantitative coronary angiography, respectively.
Bibliography:
[1] Xu B, Tu S, Song L, et al. Angiographic quantitative flow ratio-guided coronary intervention (FAVOR III China): a multicentre, randomised, sham-controlled trial. The Lancet. 2021. DOI: https://doi.org/10.1016/S0140-6736(21)02248-0. (IF = 79.323)
[2] Song L, Tu S, Sun Z, et al. Quantitative flow ratio-guided strategy versus angiography guided strategy for percutaneous coronary intervention: Rationale and design of the FAVOR III China trial. American Heart Journal. 2020;223:72-80. DOI:10.1016/j.ahj.2020.02.015. (IF = 4.749)
Author: Sun Qiong
Source: School of Biomedical Engineering, SJTU
Translated by Chen Chen
Proofread by Xiao Yangning