SJTU Researcher Reveals the Susceptibility of Arctic Permafrost Melting to Climate Change
Zhang Xiaowen, tenure-track assistant professor of the School of Oceanography at Shanghai Jiao Tong University, has recently published a paper titled "Recent Warming Fuels Increased Organic Carbon Export from Arctic Permafrost" as the first and corresponding author in AGU Advances, a flagship journal of the American Geophysical Union. The paper is a collaborated work between Dr. Zhang Xiaowen and other researchers from the University of Florida, University of Alaska at Fairbanks, and the Swiss Federal Institute of Technology in Zurich. The article states that the rapid warming in the Arctic over the past 160 years has presumably induced deeper permafrost melting and an incremental export of permafrost organic carbon (OC), and identifies that the rate of warming, alongside the prevailing boundary conditions, may also be essential factors influencing permafrost melting. The article was selected for Editor's highlights and featured in an article by Editor-in-Chief Susan Trumbore on the Eos website.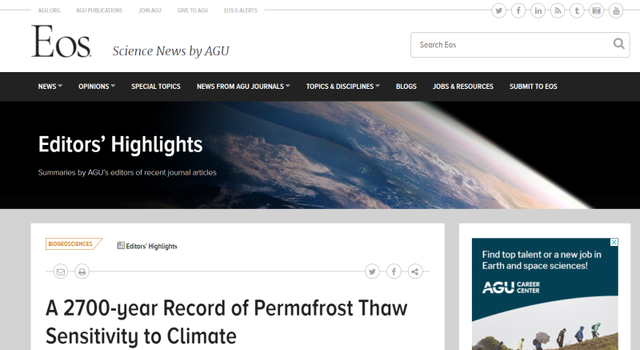 The Arctic permafrost contains huge carbon reserves, comprising about half of the total organic carbon (OC) in the global soil. When the permafrost melts, the carbon reserves are more susceptible to microbial degradation, generating greenhouse gases and thus acting as positive feedbacks on global warming. For this reason, the release of organic carbon from permafrost is an important basis to predict climate change using ecological and Earth system models.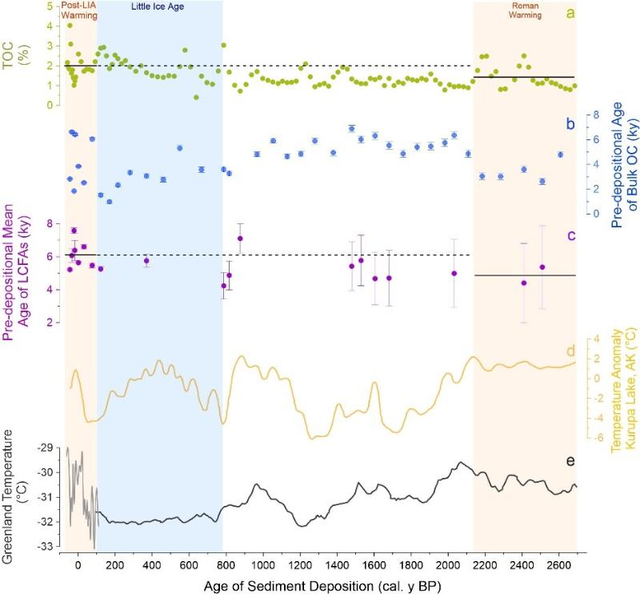 Geochemical and geochronological record of late Holocene permafrost thawing within the Colville River watershed
This study examines sediment core from the Colville River Delta located on the northern coast of Alaska, with an emphasis on the 14C ages of bulk OC and long-chain fatty acids in the sediments. This study validates the correlation between Arctic warming and permafrost thaw depth and permafrost organic carbon export using sedimentary records, provides a model for comparing sedimentary records in Arctic estuaries, and illustrates some potentially influential factors that may be neglected in current climate models.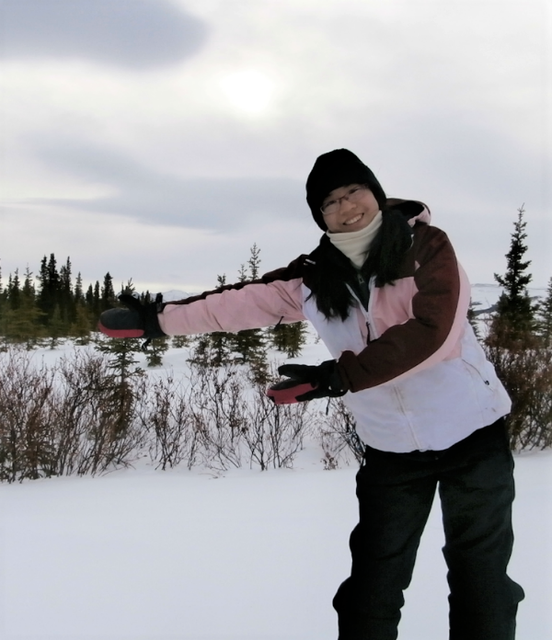 Xiaowen Zhang joined the School of Oceanography, Shanghai Jiao Tong University in February 2020, and is currently a tenure-track assistant professor. Her research interests are mainly in organic geochemistry, permafrost carbon cycle, and monomeric carbon isotopes. She has published several SCI papers as first and corresponding author in AGU Advances, GRL, JGR-Biogeosciences, OG and other journals.
Paper link:
https://agupubs.onlinelibrary.wiley.com/doi/full/10.1029/2021AV000396
Eos coverage link:
https://eos.org/editor-highlights/a-2700-year-record-of-permafrost-thaw-sensitivity-to-climate
Author: Xie Anqi
Source: School of Oceanography, SJTU
Translated by Chenchen
Proodread by Fu Yuhe
ABSTRACT:
Climate-driven thawing of Arctic permafrost renders its vast carbon reserves susceptible to microbial degradation, serving as a potentially potent positive feedback hidden within the climate system. While seemingly intuitive, the relationship between thermally driven permafrost losses and organic carbon (OC) export remains largely unexplored in natural settings. Filling this knowledge gap, we present down-core bulk and compound-specific radiocarbon records of permafrost change from a sediment core taken within the Alaskan Colville River delta spanning the last c. 2,700 years. Fingerprinted by significantly older radiocarbon ages of bulk OC and long-chain fatty acids, these data expose a thermally driven increase in permafrost OC export and/or deepening of mobilizable permafrost layers over the last c. 160 years after the Little Ice Age. Comparison of OC content and radiocarbon data between recent and Roman warming episodes likely implies that the rate of warming, alongside the prevailing boundary conditions, may dictate the ultimate fate of the Arctic's permafrost inventory. Our findings highlight the importance of leveraging geological records as archives of Arctic permafrost mobilization dynamics with temperature change.