SJTU Key Laboratory Made New Discoveries in PTEN Studies
Recently, Dr. Shen Shaoming and other scholars from the State Key Laboratory of Oncogenes and Related Genes, School of Medicine of SJTU, published an online paper titled "BXO22 degrades nuclear PTEN to promote tumorigenesis in Nature Communications" in Nature Communications.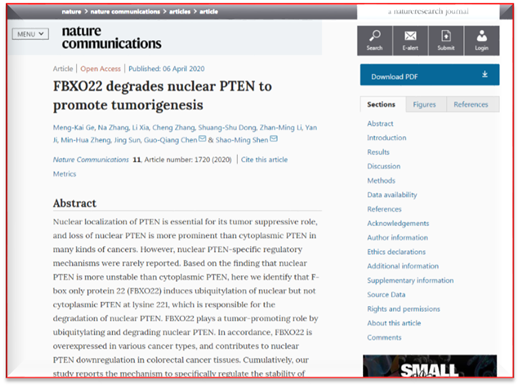 The co-first authors of are doctoral student Ge Mengkai, postgraduate Zhang Na and Associate Professor Xia Li from Public Technology Platform of Basic Medicine, SJTU School of Medicine. Associate Researcher Shen Shaoming and Professor Chen Guoqiang are the co-corresponding authors of the paper.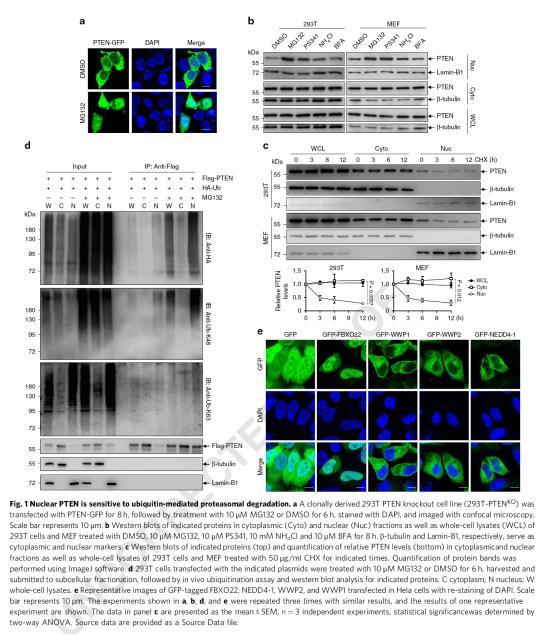 Abstract
Nuclear localization of PTEN is essential for its tumor suppressive role, and loss of nuclear PTEN is more prominent than cytoplasmic PTEN in many kinds of cancers. However, nuclear PTEN-specific regulatory mechanisms were rarely reported. Based on the finding that nuclear PTEN is more unstable than cytoplasmic PTEN, here we identify that F-box only protein 22 (FBXO22) induces ubiquitylation of nuclear but not cytoplasmic PTEN at lysine 221, which is responsible for the degradation of nuclear PTEN. FBXO22 plays a tumor-promoting role by ubiquitylating and degrading nuclear PTEN. In accordance, FBXO22 is overexpressed in various cancer types, and contributes to nuclear PTEN downregulation in colorectal cancer tissues. Cumulatively, our study reports the mechanism to specifically regulate the stability of nuclear PTEN, which would provide the opportunity for developing therapeutic strategies aiming to achieve complete reactivation of PTEN as a tumor suppressor.