Prof. Wang Ning's Team Published Papers on China's Achievements in COVID-19 Control in European Review
Professor Wang Ning, a senior professor in liberal arts at Shanghai Jiao Tong University and foreign academician of Academia Europaea, was invited to compile a paper collection titled Confronting the COVID-19 Epidemic and Control: Reports and Reflections from China, which was released on the website of European Review published by Cambridge University Press. These papers were well received by the mainstream academia in Europe and America and were regarded as an authentic report and humanistic reflection of Chinese humanistic spirits on China's current achievements in fighting against the epidemic.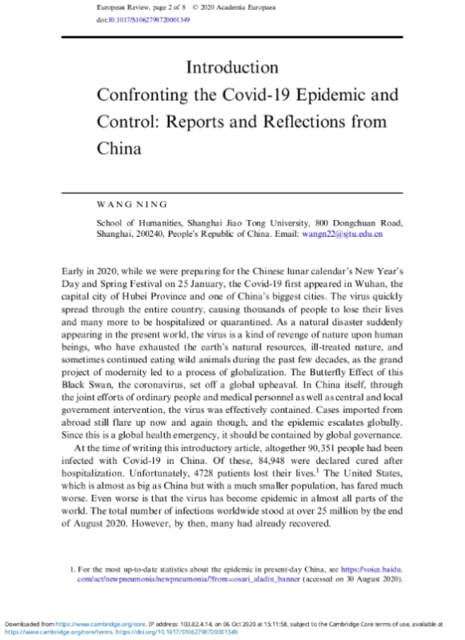 At the invitation of academician Theo D'haen, editor-in-chief of European Review, Prof. Wang Ning invited scholars from four major cities of China, namely Shanghai, Beijing, Wuhan, and Chongqing, to write four articles about epidemic control in their cities respectively. He also added an introduction for the collected papers, reflecting on the situation theoretically from the perspective of humanists and discussing the challenges in education and academic research faced by universities in the post-epidemic era.
Academia Europaea is the highest honorary academic institution in Europe, with nearly 4,000 academicians. Academician Wang Ning is the first Chinese (including Hong Kong and Taiwan) scholar in humanities and social sciences selected as a foreign academician of the Academy. This paper collection is the fourth themed collection he was invited to compile for European Review, which shows that SJTU scholars in the field of humanities study are playing a leading role in the international mainstream academia.
EXTRACT:
Early in 2020, while we were preparing for the Chinese lunar calendar's New Year's Day and Spring Festival on 25 January, the Covid-19 first appeared in Wuhan, the capital city of Hubei Province and one of China's biggest cities. The virus quickly spread through the entire country, causing thousands of people to lose their lives and many more to be hospitalized or quarantined. As a natural disaster suddenly appearing in the present world, the virus is a kind of revenge of nature upon human beings, who have exhausted the earth's natural resources, ill-treated nature, and sometimes continued eating wild animals during the past few decades, as the grand project of modernity led to a process of globalization. The Butterfly Effect of this Black Swan, the coronavirus, set off a global upheaval. In China itself, through the joint efforts of ordinary people and medical personnel as well as central and local government intervention, the virus was effectively contained. Cases imported from abroad still flare up now and again though, and the epidemic escalates globally. Since this is a global health emergency, it should be contained by global governance.
Author: Institute of Humanities and Arts
Contributed by: School of Humanities, SJTU
Translated by Zhou Rong
Proofread by Xiao Yangning