Prof. Su Bing's Team Discovered New Type of Intestinal Stem Cells
On the early morning of March 4th, the international academic journal Nature published on its website the research article titled "MAP3K2-regulated intensive stem cells define a distinct stem cell niche" by Prof. Su Bing's research team from Shanghai Institute of Immunology, SJTU School of Medicine. In the research, they reported a new type of intestinal stromal cells called MRISC at the bottom of intestinal stem cells (Figure 1). By employing various techniques such as single cell sequencing, ATAC sequencing, reporter mice, co-culture of intestinal organs in vitro and orthotopic injection of intestinal interstitial cells, this study systematically revealed the role and mechanism of MRISC cells in repairing intestinal epithelial tissue injury by specifically regulating Rspo1-WNT signal of intestinal stem cell microenvironment in the process of intestinal inflammation and injury, which provided new insights for the research of intestinal repair and regeneration, as well as the clinical treatment of related diseases.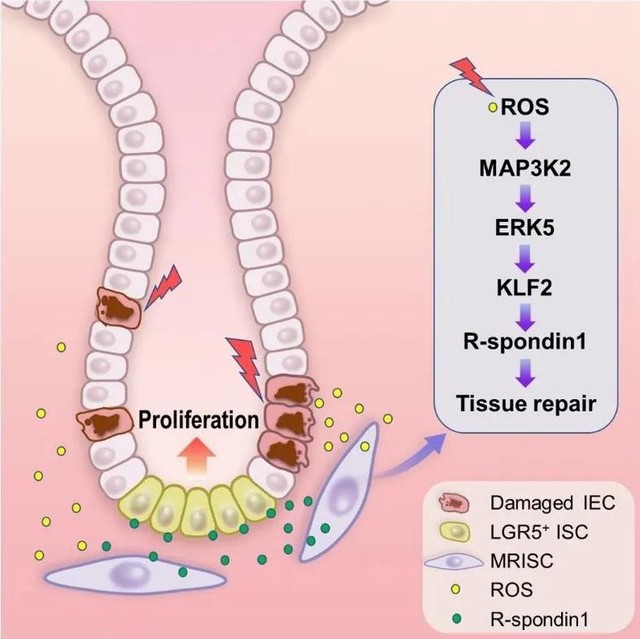 Figure 1. Working model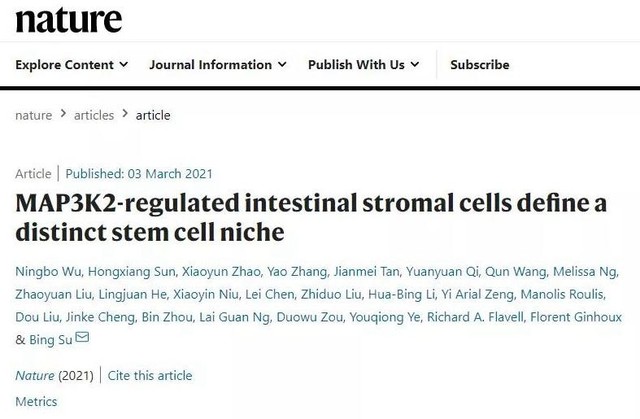 This research is a collaborative achievement by Prof. Su Bing's team, and it is also the first research project that Prof. Su worked on after leaving Yale University and joining Shanghai Jiao Tong University School of Medicine. Dr. Wu Ningbo and Dr. Sun Hongxiang in the research team are the co-first authors of this paper.
Prof. Su Bing, the corresponding author of the paper, is K.C.Wong Chair Professor of SJTU, Director of Shanghai Institute of Immunology, and Head of Department of Immunology and Microbiology, SJTU School of Medicine. He is also the director of SJTU School of Medicine-Yale University Institute of Immunometabolism. In recent years, Prof. Su's research group has been focusing on intestinal mucosal immunity and inflammation-related diseases, and carrying out clinical and translational research in collaboration with Ruijin Hospital, Renji Hospital and other clinical departments.
This research was supported in part by grants from the National Natural Science Foundation of China (3201101152, 91942311 and 31930035), Shanghai Science and Technology Commission (20410714000) and State Key Laboratory of Oncogenes and Related Genes.
Source: Shanghai Jiao Tong University School of Medicine
Translated by Zhou Rong
Proofread by Xiao Yangning, Fu Yuhe
ABSTRACT:
Intestinal stromal cells are known to modulate the propagation and differentiation of intestinal stem cells1,2. However, the precise cellular and molecular mechanisms by which this diverse stromal cell population maintains tissue homeostasis and repair are poorly understood. Here we describe a subset of intestinal stromal cells, named MAP3K2-regulated intestinal stromal cells (MRISCs), and show that they are the primary cellular source of the WNT agonist R-spondin 1 following intestinal injury in mice. MRISCs, which are epigenetically and transcriptomically distinct from subsets of intestinal stromal cells that have previously been reported3,4,5,6, are strategically localized at the bases of colon crypts, and function to maintain LGR5+ intestinal stem cells and protect against acute intestinal damage through enhanced R-spondin 1 production. Mechanistically, this MAP3K2 specific function is mediated by a previously unknown reactive oxygen species (ROS)-MAP3K2-ERK5-KLF2 axis to enhance production of R-spondin 1. Our results identify MRISCs as a key component of an intestinal stem cell niche that specifically depends on MAP3K2 to augment WNT signalling for the regeneration of damaged intestine.