Prof. Liang's Team Found New Mechanisms for Rice Pollen Aperture Formation
Recently, a research team led by Liang Wanqi from School of Life Sciences and Biotechnology, SJTU, made breakthroughs in pollen aperture development in plant species with their research paper titled "Rice pollen aperture formation is regulated by the interplay between OsINP1 and OsDAF1" published in Nature Plants. The co-first authors are doctoral student Zhang Xu and Dr. Zhao Guochao, and the corresponding author is researcher Liang Wanqi.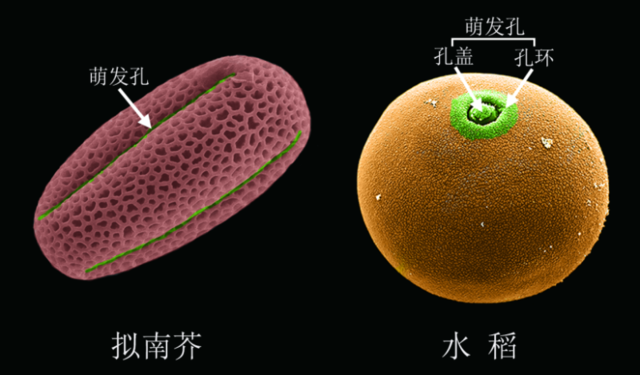 Their research, for the first time, reported the main factors that lead to morphological variation of aperture across plant species, which shed lights on how cell-surface pattern forms in grasses and the mechanisms controlling pollen aperture development in cereal species. The research has been sponsored by National Key Research and Development Project as well as National Natural Science Foundation of China.
Abstract:
The aperture on the pollen surface provides an exit for the emerging pollen tube. Apertures exhibit huge morphological variation across plant species-grasses, including rice, possess a complex aperture consisting of an annulus and an operculum-but little is known about how this species-specific cell-surface pattern forms. Here, we report a lectin receptor-like kinase in Oryza sativa, OsDAF1, which is essential for annulus formation and thus for fertility. OsDAF1 is evenly distributed in early microsporocytes but localizes to the distal pre-aperture site at the tetrad stage. We further reveal that the rice orthologue of a key aperture factor in Arabidopsis, OsINP1, has conserved and diversified roles in rice aperture formation. Disruption of OsINP1 prevents formation of the aperture, precluding pollen-tube germination. Furthermore, our results demonstrate that OsINP1 is required for polarization of OsDAF1 via direct protein interaction, suggesting that OsINP1 has an additional role in the formation of annulus that is absent in Arabidopsis. Our study reveals the importance of the aperture for rice grain yield and reveals mechanisms controlling pollen aperture development in cereal species.
Link: https://doi.org/10.1038/s41477-020-0630-6
Translated by Zhang Wenying Reviewed by Wang Bingyu