Dr. Xu's Team Realized Benzoheterocyclic Derivatives Biosynthesis in Microbial Cell Factories
The research team led by Dr. Xu Minjuan from Shanghai Jiao Tong University has realized the biosynthesis of various benzoheterocyclic derivatives in microbial cell factories. The research titled "Constructing Microbial Hosts for the Production of Benzoheterocyclic Derivatives" was recently published in ACS Synthetic Biology, a world-renowned journal in synthetic biology under the American Chemical Society.
Plant-derived natural products play an important role in drug research, but they also have problems like the difficulties in finding stable natural drug sources, the long planting cycle of plants, and the impact of environmental factors. Using microbial cells to synthesize plant-derived natural products has attracted attention worldwide in the field of pharmaceutical biotechnology due to its competitive advantage in industrial production.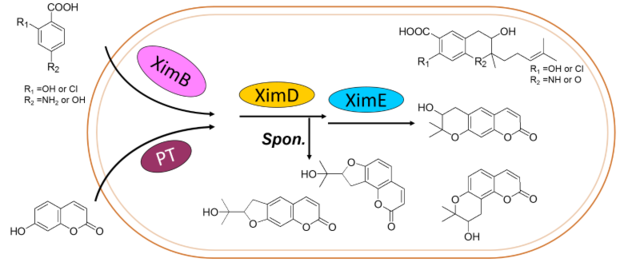 Shanghai Centre for Systems Biomedicine SJTU is the first corresponding affiliation of the paper. The work was supported by the National Key Research and Development Program of China (grant no. 2018YFA0901900) and Laboratory for Marine Drugs and Bioproducts of Qingdao National Laboratory for Marine Science and Technology (grant no. LMDBKF-2019-02).
Paper Link: https://pubs.acs.org/doi/10.1021/acssynbio.9b00405
Author: Xu Minjuan
Affiliation: Shanghai Centre for Systems Biomedicine, SJTU
Translated by Zhou Rong
Proofread by Xiao Yangning