Where:
Gaotian Hall, Minhang Campus, SJTU
Speaker biography: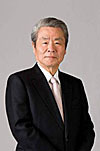 Mr. Masahiro Sakane, Vice Chairman of Nippon Keidanren (Japan Business Federation), Vice Chairman of the Board of Councilors and Chairman of Komatsu Ltd. He has also served as the Deputy Chairman of Japan-China Economic Association since 2005.
As the topic says, a successful enterprise cannot separate itself from the global economy. In recent years, Komatsu Ltd. has been expanding its production in China. Its sales in China are increasing by over 40% each year. As the Chairman of Komatsu Ltd. the world's second-largest maker of construction equipment, Mr. Masahiro Sakane keeps sensitive to every change of Chinese economy.
With an insight into the economy and keen observation of the situations, Mr. Masahiro Sakane is indeed a great man of action and successful entrepreneur. We expect the master of business to talk about how to achieve success for enterprises in global economy. This lecture is sure to enlighten you!