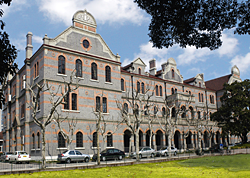 An imperial edict issued in 1896 by Emperor Guangxu, established Nanyang Public School in Shanghai. The normal school, school of foreign studies, middle school and a high school were established. Sheng Xuanhuai, the person responsible for proposing the idea to the emperor, became the first president and is regarded as the founder of the university.
During the 1930s, the university gained a reputation of nurturing top engineers. After the foundation of People's Republic, some faculties were transferred to other universities. A significant amount of its faculty were sent in 1956, by the national government, to Xi'an to help build up Xi'an Jiao Tong University in western China. Afterwards, the school was officially renamed Shanghai Jiao Tong University.
Since the reform and opening up policy in China, SJTU has taken the lead in management reform of institutions for higher education, regaining its vigor and vitality with an unprecedented momentum of growth. SJTU includes six beautiful campuses, Xuhui, Minhang, Qibao, Shangzhong, Fahua and Luwan cover more than 200 hectares. A number of disciplines have been advancing towards the top echelon internationally, and a batch of burgeoning branches of learning have taken an important position domestically.