SJTU Team Research On Delivery Of Nucleic Acids and Chemotherapy Published
In recent days, Fang Chao topic research group from Shanghai Jiao Tong University College of Basic Medical Sciences Department of Pharmacology and Chemical Biology published an online paper in the internationally renowned magazine 'Advanced Functional Materials' (Impact Factor 12.124) titled Integrated Combination Treatment Using a "Smart" Chemotherapy and MicroRNA Delivery System Improves Outcomes in an Orthotopic Colorectal Cancer. The paper will be officially published on the title page of July issue. Creative design behind the research was based on MSN (mesoporous silica nanoparticles) nucleic and chemotherapeutic drug targeting co-delivery systems. By using orthotopic murine model of colorectal cancer, a new therapy combining chemotherapy and miRNA therapy has been successfully achieved.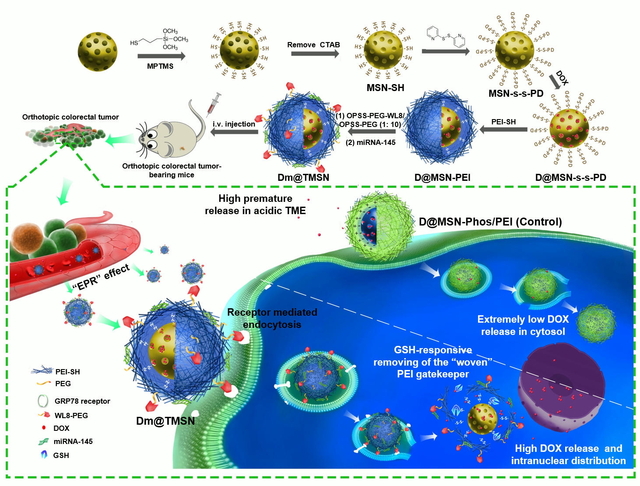 Liu Haijun, PhD of SJTU College of Basic Medical Sciences is the first author and professor Fang Chao of SJTU College of Basic Medical Sciences and assistant professor Zhao Mei of Shanghai University of Medicine and Health Sciences College of Pharmacy as corresponding authors. Major support for the research was provided by professor Chen Hongzhuan of SJTU College of Basic Medical Sciences, professor Jonathan F. Lovell of University at Buffalo(State University of New York) and Sun Peng, general surgery director of SJTU School of Medicine Affiliated Tongren Hospital. Research was sponsored by National Natural Science Foundation of China and Shanghai Science and Technology Committee.
Mesoporous silica nanoparticles (MSN) can load and deliver potentially synergistic anticancer agents such as small molecule cytotoxics (like doxorubicin, DOX) and nucleic acids (like microRNA, miRNA). However, these cargos have different underlying chemical properties so overcoming respective intracellular delivery barriers is a key consideration. Strategies to deliver DOX from MSN frequently employ pH‐driven mechanisms that are restricted to the acidic environment of lysosomes. Conversely, strategies to deliver miRNA make use of approaches that deliberately compromise lysosomal membrane integrity to enable cytosolic delivery of the payload. To reconcile these two needs (lysosomal delivery of DOX and intracellular delivery of miRNA), a new methodology by "weaving" polyethylenimine on the MSN surface through disulfide bonds to achieve superior delivery of chemotherapy (DOX) and miRNA therapy (using miRNA‐145) is developed. Furthermore, an active targeting strategy based on a peptide ligand with affinity to glucose‐regulated protein 78 (GRP78), a cell surface protein overexpressed in colorectal carcinoma, is developed. The active targeting approach results in enhanced synergistic antitumor effect both in vitro and in vivo in an orthotopic murine model of colorectal cancer. Taken together, this work demonstrates the capability and advantages of "smart" MSN delivery systems to deliver anticancer cargo appropriately to targeted cancer cells.